Kentucky Senate District 9
Democrat Brian Pedigo is challenging Republican incumbent David Givens for the Senate District 9 seat.
Allen, Barren, Green, Metcalfe, Monroe and Simpson counties.
Thanks to Pedigo for responding to the KFTC candidate survey.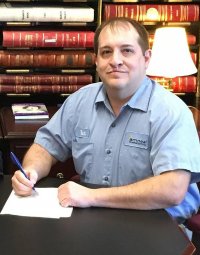 Political party: Democrat
Campaign Facebook: Facebook

Question 1:
What's your vision for Kentucky? How will the lives of Kentuckians be improved as a result of your time in office? What legislative committees will you request to serve on once elected? 
My vision is a healthier Kentucky by putting focus on renewable clean energy sources and ensuring every Kentuckian has access to affordable healthcare. I would like to serve on the agriculture committee, Econ development and labor committee,and Natural Resources and Energy committee.
© 2021 Kentuckians For The Commonwealth