Cassie Chambers Armstrong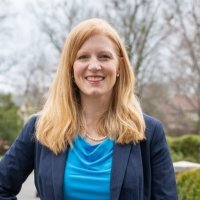 Campaign Twitter account:
Question 1:
What skills, values, and experiences will you bring to this position? What is your vision for Metro Louisville, and how will the lives of Louisvillians be improved as a result of your time in office?
I've spent my life advocating for policies to make my community stronger. I started my career at Legal Aid, representing low-income domestic violence survivors who couldn't afford an attorney. In that role, I learned what it means to make bureaucracy work for people, and how to answer your cell phone in the middle of the night because someone has a problem that it's your responsibility to solve. I know what an honor it is for someone to trust you to be their voice in a process.
I've also advocated for change at a systemic level. I've worked in numerous policy environments, including in the U.S. Senate, the U.S. House of Representatives, the U.K. Parliament, and the Kentucky General Assembly. I helped pass Jeanette's Law--which made it so that domestic violence survivors no longer had to pay the legal fees of their incarcerated spouses. I've worked on legal cases to ensure low-income Kentuckians have equal access to expungements.
I want to use my experience in advocacy and policy to make District 8 clean, green, safe, vibrant, and inclusive. As a Metro Councilwoman, I will focus on things like increased walkability, public space recycling, and community-driven development. I believe our district can be a model and a resource for the rest of the city as we confront systemic issues like disparities and poverty.
Question 2:
What initiatives will you support to decrease the use of deadly force by law enforcement officers, particularly in communities of color? What is your position on an independent civilian review of any police shooting resulting in a death? What other resources should Metro Council provide to improve public safety in your district and across Louisville?
I support a multifaceted approach to decrease the use of deadly force by law enforcement officers. We should provide opportunities for the community to give feedback to the police about their perceptions and experiences through things like surveys and forums. I also support including citizens and stakeholders in the review of fatal shootings in order to make sure the concerns of the community are heard. I also believe that training on things like implicit racial bias, de-escalation tactics, and alternatives to deadly force would give our law enforcement officers helpful tools to utilize on the job. Finally, I believe that representation matters and that we should take steps to make sure that we have a representative police force. Evidence suggests that black representation on police forces reduces police killings of black people. I believe it is important that police forces reflect the community that they serve.
Question 3:
Jail overcrowding is a huge issue in Louisville, and one that disproportionately impacts Black Louisvillians. What role do you think that ending cash bail and supporting alternatives to incarceration can play in addressing this issue?
Cash bail is based on the idea that people are more likely to show up for court if they have money on the line. Yet evidence suggests that cash bail does not increase the likelihood that an individual shows up for court hearings. In cities like Washington DC where they have reduced the reliance on cash bail, most defendants still show up for their court dates.
On the flip side, cash bail often disproportionately impacts low-income individuals, who cannot afford to pay it. These individuals—who have not been found guilty of any crime—must often sit in jail for months, or even years, awaiting trial while wealthier individuals can buy their way out.
Increasingly, cities and states are looking to use risk-assessment systems to replace cash bail. These systems may actually increase public safety, as they ensure higher-risk individuals cannot simply buy their way out of prison. I would favor Louisville exploring some of these alternatives to cash bail. I think it is important that civilians, the police, prosecutors, defense attorneys, formerly incarcerated individuals, and other stakeholders all be a part of designing smart, effective policy options.
Question 4:
How would you include constituents in your district and across Louisville in the development of the annual Metro Louisville budget? What area(s) of the budget would you prioritize funding? What revenue increases would you propose to meet our city's future budget needs?
I support citizen engagement in the budgeting process. In District 8, I would follow the lead of Councilman Coan and use a participatory budgeting process to allocate a large portion of the District 8 discretionary funds. At a city level, I am committed to making sure that we fund the programs necessary to make sure every citizen has opportunities to grow and thrive. These include things like emergency services, public libraries, and programs that provide opportunities in historically marginalized communities.
As our pension obligations continue to increase, it will be more difficult to fund these services. While I do believe that we can achieve some savings by looking critically at our current budget, it is likely that we will need to raise new revenue to be the compassionate city we aspire to be. I favor doing this in the least regressive way possible, and I'm committed to working with the Louisville delegation to the Kentucky General Assembly to explore legislation that makes sense for the city.
Question 5:
What are the main impacts of the global climate crisis in your community and what would you do to address the public health effects of this crisis on people in your district? 
Climate change is having and will continue to have a real tangible impact on our Louisville community. Because of the climate crisis, we have recently had three of the largest rainfall years since we began recording data. This is particularly challenging for Louisville as a river city. Additionally, our expanding heat island—which is particularly harmful to vulnerable populations--is exacerbated by rising temperatures.
The devastating impacts of the climate crisis are why I support initiatives to make District 8 cleaner and greener. I support increased recycling, increased public/shared/alternative transportation, green building incentives, increased greening of public spaces, density of development, promoting walkability, protecting our public green spaces, and other policies that will help combat the climate crisis.
Question 6:
What is your plan for increasing access to safe, affordable housing and ensuring that long term residents are not displaced from neighborhoods that are undergoing redevelopment? What is your position on tenant's rights ordinances such as the proposed Clean Hands housing ordinance? Please explain. 
During law school, I spent time working with an anti-displacement group in the city of Boston. This group used legal systems to advocate for affordable housing and fight against predatory evictions and foreclosures. This background has instilled in me the importance of ensuring that every member of our community has safe, affordable housing. This is an ongoing challenge in Louisville, as estimates indicate we are 30,000 units short of housing that is affordable for those in the lowest income bracket. As a Metro Councilwoman, I will support efforts to expand affordable housing, including working to identify a dedicated recurring revenue stream to fully fund the Affordable Housing Trust Fund. I also understand the importance of protecting tenants, and I would support a clean hands housing ordinance.
Question 7:
What are your plans to create and expand support and resources toward our immigrant population, undocumented or otherwise?
I am fully committed to providing resources and support for our immigrant population, including individuals without legal status, in Louisville. These communities add incredible value to our city, and we should make sure that we are celebrating and supporting them. One way to do this is to fund great organizations such as Catholic Charities and Kentucky Refugee Ministries. We can also make sure that we are funding the city's Office for Globalization, which works to enhance multiculturalism in our city. Similarly, I believe in keeping Louisville a compassionate, welcoming city. That is why I support the ordinance that prohibits our local police from assisting on immigration arrests absent a judicial warrant or a threat to public safety.
© 2021 Kentuckians For The Commonwealth