Shawn Reilly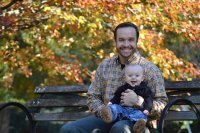 Campaign Twitter account:
Question 1:
What skills, values, and experiences will you bring to this position? What is your vision for Metro Louisville, and how will the lives of Louisvillians be improved as a result of your time in office?
I'm a neighborhood guy who cares a lot about this community. I've never been a politician, but now I am running for Metro Council. I plan to be a neighborhood champion, and I'm ready to work so I can make a difference in our district.
I'm a homegrown Louisvillian, husband, father, small business owner, President of the Tyler Park Neighborhood Association and active community organizer. I'm a graduate of the University of Louisville and Trinity High School and more recently, a graduate of the Center for Neighborhoods' Neighborhood Institute.
For more than ten years, I've served on neighborhood boards in the Highlands where I've worked to introduce a recycling program, launched a campaign to save the Tyler Park tennis courts from demolition and organized numerous park and alley cleanups. I'm also a founding member of B.I.G, (Bardstown Road Improvement Group) leading a citizens' team in improving Bardstown Road through innovative actions and practical solutions.
My goals for District 8 first and foremost are public safety, followed closely by quality delivery of basic services like garbage pickup, recycling, filling pot holes for all residents.
I want to build a strong network of neighborhoods where each one supports and enhances the great work going on across the district, such as tree planting projects, neighborhood festivals and improving our parks. I also want to implement the Bardstown Rd Safety Plan and create a citizen-driven blueprint for the Bardstown Rd of tomorrow that will revitalize the corridor.
I am a champion of neighborhoods.I believe neighborhoods are the heart and soul of a community.
Louisville should focus on its core neighborhoods - those neighborhoods within the old city limits. In too many instances they have suffered decades of decline and neglect. We should be supporting them with greater attention and responding aggressively to their concerns. Investing in existing infrastructure and providing the best services possible will reap huge benefits for the citizens of Louisville.
Question 2:
What initiatives will you support to decrease the use of deadly force by law enforcement officers, particularly in communities of color? What is your position on an independent civilian review of any police shooting resulting in a death? What other resources should Metro Council provide to improve public safety in your district and across Louisville?
I want to look to other cities and established organizations like Campaign Zero for best practices that can be implemented here in Louisville. Examples include de-escalation tactics (verbalization; creating distance, time and space; tactical re-positioning, etc.) whenever possible instead of using force. Also, banning chokeholds, strangleholds, hog-tying and transporting people face down in a vehicle.
I fully support an independent civilian review of any police shooting that results in a death.
Additionally, I like the idea of real community policing and having officers in plain clothes walking a neighborhood or a street as opposed to being isolated in the cars. The barrier that being in a car creates is much thicker than a pane of glass. Doing simple things like this will make police more approachable and the more a community sees the officers the more trust is built.
I think every officer should have first aid kits and immediately render medical assistance to anyone in custody who is injured or who complains of an injury. There have been several occasions where officers are waiting on ambulance or other emergency responders before aid is rendered.
Question 3:
Jail overcrowding is a huge issue in Louisville, and one that disproportionately impacts Black Louisvillians. What role do you think that ending cash bail and supporting alternatives to incarceration can play in addressing this issue?
I support the work and advocacy of The Bail Project here in Louisville. I think that ending cash bail will have a huge impact in jail overcrowding but more importantly in many cases, low-income people are detained simply because they can't pay a few hundred dollars in bail. I want to see Louisville continue its partnership with the Bail Project.
Question 4:
How would you include constituents in your district and across Louisville in the development of the annual Metro Louisville budget? What area(s) of the budget would you prioritize funding? What revenue increases would you propose to meet our city's future budget needs?
First, I want to include every willing citizen in the budget making process, much like I have been doing in my campaign hosting listening events. I believe in a bottom up approach hearing what people want instead of a top down directive.
For me, I want to see public services like police, fire protection, libraries, trash collection and road maintenance brought back to pre-budget cut levels. After that, I support public transportation, public health, our city and Olmsted parks.
Louisville's budget problems are not just in need of more revenue but could greatly benefit from not wasting public funds on handouts to developers and failed projects.
Here in District 8 alone, the old Ballet Building and police station were sold by the city to a developer at a very discounted price of $425,000 while the city had an appraisal for $1.12 million in its hands. A short time later the developer re-sold the property without any improvements for $1.12 million dollars. This terrible deal cost the city $700,000 that could have gone to public pools, fire protection or filling pot holes.
Louisville Forward, the government agency that negotiated this terrible deal, has a history of making deals that don't benefit the city or tax payers, such as the million dollar forgivable loan that was made for the Wal-Mart that was never built and the loan never repaid. I want to audit and review every deal Louisville Forward makes before any contracts are signed to ensure it benefits the public.
After we end handouts to developers, I am open to discussing revenue increases as long as it's not a regressive tax and it does not hurt the many restaurants along the Bardstown Rd corridor.
Question 5:
What are the main impacts of the global climate crisis in your community and what would you do to address the public health effects of this crisis on people in your district? 
First, the climate crisis is 100% real and I 100% support the Renewable Energy resolution that just passed Metro Council.
In my neighborhood people are noticing their basements flooding when they had not before. Extreme temperature swings have caused pipes to freeze and burst. The summers are hotter causing people to use more air conditioning, causing more pollution. People are walking less due to the heat and lack of street trees. Also, people with asthma are experiencing many more ozone warning days.
The work I have been doing focuses on tree planting initiatives with the Tyler Park Neighborhood Association, volunteering with Olmsted Parks and a tactical urbanism project showing the city how 25 new street trees could be added to one block of Bardstown Road in hopes of getting a commitment for hundreds of new trees.
Again, I fully support the Renewable Energy resolution that passed Metro Council and I want to work on the implementation to achieving the goal of transitioning city operations to 100 percent renewable electricity by 2030.
Question 6:
What is your plan for increasing access to safe, affordable housing and ensuring that long term residents are not displaced from neighborhoods that are undergoing redevelopment? What is your position on tenant's rights ordinances such as the proposed Clean Hands housing ordinance? Please explain. 
Money being allocated for affordable housing is not being used for people at the lowest incomes.The Affordable Housing Trust Fund should be focusing on people at 30% AMI and half of their funding should be going to people at or below that level. Additionally, I will commit to work toward securing a source of ongoing, dedicated public revenue of $10 million per year for the LAHTF. The current city budget approved in June, allocated $5 million.
In the Highlands we are facing an onslaught of Short Term Rentals from Airbnb and other outside companies. This is driving up the cost of housing and changing the fabric of our neighborhoods by having commercial hotels operating next to single family, multi-family and long term rentals. This pattern of development and flooding of our neighborhoods with commercial hotels is not sustainable.
My view is that Short Term Rentals are a commercial use and should be treated as such. I want to see all non-owner occupied STRs be located in a C-2 zone and out of neighborhoods. I will introduce a resolution not only ending STRs in neighborhoods but also taking away any conditional use permits that have been issued when the property is transferred to a new owner.
I fully support a "Clean Hands" ordinance that would prevent landlords from evicting tenants, if the landlord has open code violations.
Question 7:
What are your plans to create and expand support and resources toward our immigrant population, undocumented or otherwise?
The Highlands is a welcoming and inclusive community and we're lucky that Kentucky Refugee Ministries is in our neighborhood. I want to support KRM as they work to resettle refugees and welcome immigrants. I think it's important for the Highlands to be a leader in welcoming immigrants and promoting awareness of diversity. Showing our compassion will benefit the whole community, not just District 8.
© 2021 Kentuckians For The Commonwealth