Governor
The governor is the chief executive officer of the commonwealth, meaning that he or she is the highest ranking official in the Executive Branch. The governor oversees the enforcement of laws and services for Kentuckians and has the ability to veto legislation that comes through the General Assembly, along with other powers and duties.
Other surveys of gubernatorial candidates
The lieutenant governor runs for office jointly with the governor and serves on many commissions and boards. If something were to happen to the governor, the lieutenant governor would take his or her place.
Andy Beshear, the current attorney general, is the Democractic candidate. His running mate is Jacqueline Coleman. Beshear's answers follow.
John Hicks and Ann Cormican are running for governor and lieutenant governor, respectively, for the Libertarian Party. Hicks' answers follow.
Our current governor, Matt Bevin, is running for re-election as the Republican candidate. His running mate is Ralph Alvarado. Bevin did not respond to our survey.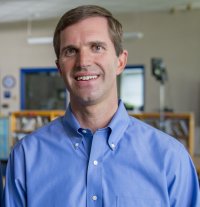 Political party: Democrat
Campaign website: https://andybeshear.com/

Campaign Facebook: Facebook

Campaign Twitter: Twitter
Question 1:
What's your vision for Kentucky? How will our commonwealth be better in four years if you're elected?
Fully funding public education is the greatest economic investment we can make for our children. A good education gives every child—no matter in which zip code they live— a shot at the American dream. 
As attorney general, I'm fighting to protect all Kentuckians' rights to affordable health care. I've joined several attorneys general fighting against a recent Texas ruling that would eliminate protections for pre-existing conditions, which would leave hundreds of thousands of Kentuckians without health insurance. 
As governor, I will also immediately repeal Gov. Bevin's Medicaid waiver. 
We will work to recruit companies that don't just bring jobs, but good-paying jobs you can raise a family on. Kentucky's wage and job growth is the third worst in the nation.  
I'm the most aggressive attorney general in the nation fighting opioid manufacturers and distributors in court. I've kept all nine lawsuits in Kentucky and directed $8 million so far to 15 treatment centers. I will continue that fight as governor. 
We will bring transparency and decency back to Frankfort. My running mate and I have released our tax returns so Kentuckians know who we work for. I call on every candidate to do the same.
Political party: Libertarian
Campaign website: https://www.hickscormicanforkentucky.com

Campaign Facebook: Facebook

Question 1:
What's your vision for Kentucky? How will our commonwealth be better in four years if you're elected?
Let's stop the shouting and get to work.
I've worked all my life as a communicator, team builder, and problem solver. I can work with our legislature, empower our state employees, and lead all Kentuckians toward a harmonious and prosperous future.
My priorities are three-fold:
LIBERTY. I'll fight the tendency for government to grow in power, diminishing individual freedom. I will work to once again make the Cannabis plant (hemp) fully legal for all purposes, expunge any Cannabis-related convictions, and carefully and gradually decriminalize drugs so any related social problems are not hidden in an underworld of crime.
CIVILITY. I promise to be a leader and facilitator for all Kentuckians and never to pit one faction against another for partisan gain.
As a former schoolteacher, I'll work to empower all teachers to radically reform education.
ELECTION REFORM. Today's political polarization and alienation doom civil society. I'll work for instant runoff elections and proportional representation, so every voter can point to someone in the legislature that they voted for.
I'm very proud that my campaign has been grassroots based and not the product of multi-million dollar funding by special interests.
© 2021 Kentuckians For The Commonwealth