Our Approach
KFTC is vision based and solution oriented. We believe that today, right now, we have the opportunity to build New Power in Kentucky – with a more authentic democracy, a just and sustainable economy, and a clean energy future. At the same time, we work to oppose injustice and end destructive practices.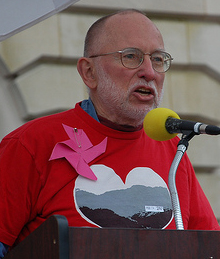 "KFTC is a learning organization. We are a place that believes ordinary people can do extraordinary things."
Steve Boyce
We believe in the power of community organizing – people working together to achieve common goals. Organizing empowers us to help shape decisions affecting our lives and the larger community. It's a long-term approach that focuses on building and exercising power, especially among people affected by injustice, to improve the quality of life for all.
The key to community organizing is building relationships among diverse groups of people. KFTC's New Power Leader program is a great way to learn and practice the art of organizing, one conversation at a time.
Leadership development is KFTC's highest priority as we work to build grassroots power and win important issues. We offer workshops, leadership roles, and mentoring opportunities to help people build skills and confidence and share their strengths with others.
KFTC members use a range of important strategies to achieve our organizing goals, including strategic communications, voter empowerment, non-violent direct action (ranging from letter writing to lobbying to protests and demonstrations), chapter building, grassroots fundraising, alliance building and litigation. 
Our commitment to diversity is an important part of our identity and purpose. We seek to build a membership that's diverse in many ways, including age, race, gender, income and class, geography, issue interests, religion, political affiliation, national origin and sexual identity. We work to build relationships and understanding across lines of difference in KFTC and in our communities. And we challenge ourselves to reflect our commitment to diversity in our campaigns, leadership programs, and strategies.
Our structure is democratic. With more than 10,500 members across the state, KFTC is governed by a Steering Committee elected by the members. We also have statewide committees that recommend and implement key parts of KFTC's program, including our statewide issue campaigns. In about a dozen places, KFTC members have organized to establish local chapters in their county or city.
KFTC's success depends on the involvement and commitment of thousands of people, including you! 
Working together for change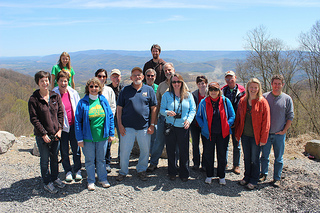 Your voice is needed!
Throughout this site, you'll find information and ideas about getting informed, getting involved, and helping us build New Power across Kentucky. Below are good places to start: 
Learn more about important issues affecting the quality of life in Kentucky. 

Learn ways to register voters and motivate people to participate in our democracy. 

Learn what's going on in your local chapter or explore ideas for starting a new KFTC chapter. 

Learn how to be a New Power Leader and help organize five or more people in your community.

Find resources, tools and tips about community organizing. 

Visit KFTC's blog and news page to find stories that inspire, inform and connect. 

Take a moment to join KFTC or renew your membership by making a donation of any size today!

Contact KFTC to share ideas, ask questions and discuss other ways to get involved.
© 2023 Kentuckians For The Commonwealth