Our Goals of Organizing
Member Voices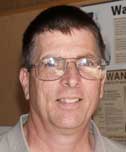 "If you work together to stop exploitation, then you've got an organization that has power. That's really what KFTC is about – empowering individuals."
Ray Tucker
Pulaski County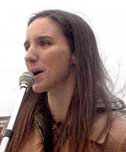 "I've learned more in my first year and a half of KFTC than I did the entire time I was in college."
Erika Skaggs
Fayette County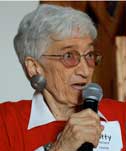 "I wouldn't have missed all the fun that I've had with KFTC and all the wonderful people I've met."
Patty Wallace
Lawrence County
Help people participate — We believe that for a democracy to flourish, all people must be active and participate. 

Empower individuals — We urge members to try new experiences, learn new skills and celebrate their growth and achievements. 

Overcome racism and other forms of discrimination — We work to overcome the discrimination that creates and sustains divisions in our society, our organization, and ourselves.

Foster democratic values — Kentuckians For The Commonwealth is shaped, directed and run by our membership. We hope to be a model of the type of democracy we're working for in society.

Challenge and change unjust institutions — We identify and tackle the root causes of social, political, and economic problems to create long-term, systemic change.

Build organizations — We give time and attention to building local community groups as well as our statewide organization. We believe that strong organizations, founded on strong principles, make it possible to achieve these other goals.

Communicate a message of what's possible — To work for a better community, we must believe a better community is possible. All of us are influenced by the messages that surround us every day. We work to develop and communicate new messages of what's possible on a large and small scale.

Win issues that affect the common welfare — People want to give energy to an organization that addresses real concerns and shows tangible results. The issues we tackle are chosen, actively addressed and solved by the membership.

Have fun — KFTC is living proof that hard work is not all drudgery. We take the time to celebrate large and small victories, and publicly recognize individual and group achievements.
© 2023 Kentuckians For The Commonwealth