Making our voices heard in the KY General Assembly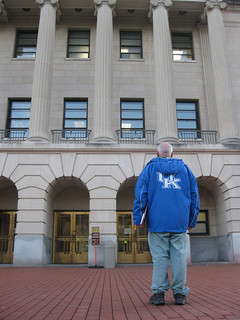 KFTC members play an important role in issues that matter in the Kentucky General Assembly. We put the grassroots in grassroots lobbying! And we have a long track record of helping to pass important legislation, and stopping bad ideas before they become law.
For decades, every winter KFTC members make multiple trips to Frankfort to meet with legislators, testify before committees, and hold rallies and demonstrations at the Capitol. We share stories and information with legislators to promote ideas that can improve the quality of life in our state. And we hold lawmakers accountable if they ignore the needs of their constituents.
That will have to be different for the 2021 General Assembly in order for people to remain safe during the ongoing pandemic, but we can't allow this to be used as an excuse to further deny Kentuckians access to legislators and legislative proceedings. KFTC and allies are working to make sure the process stays open and accountable.
Call or write your legislators to let them know your views on important issues.
Set up a meeting with your legislators during their January recess (January 9 - February 1). They should have the ability to set up online meetings, or set one up yourself.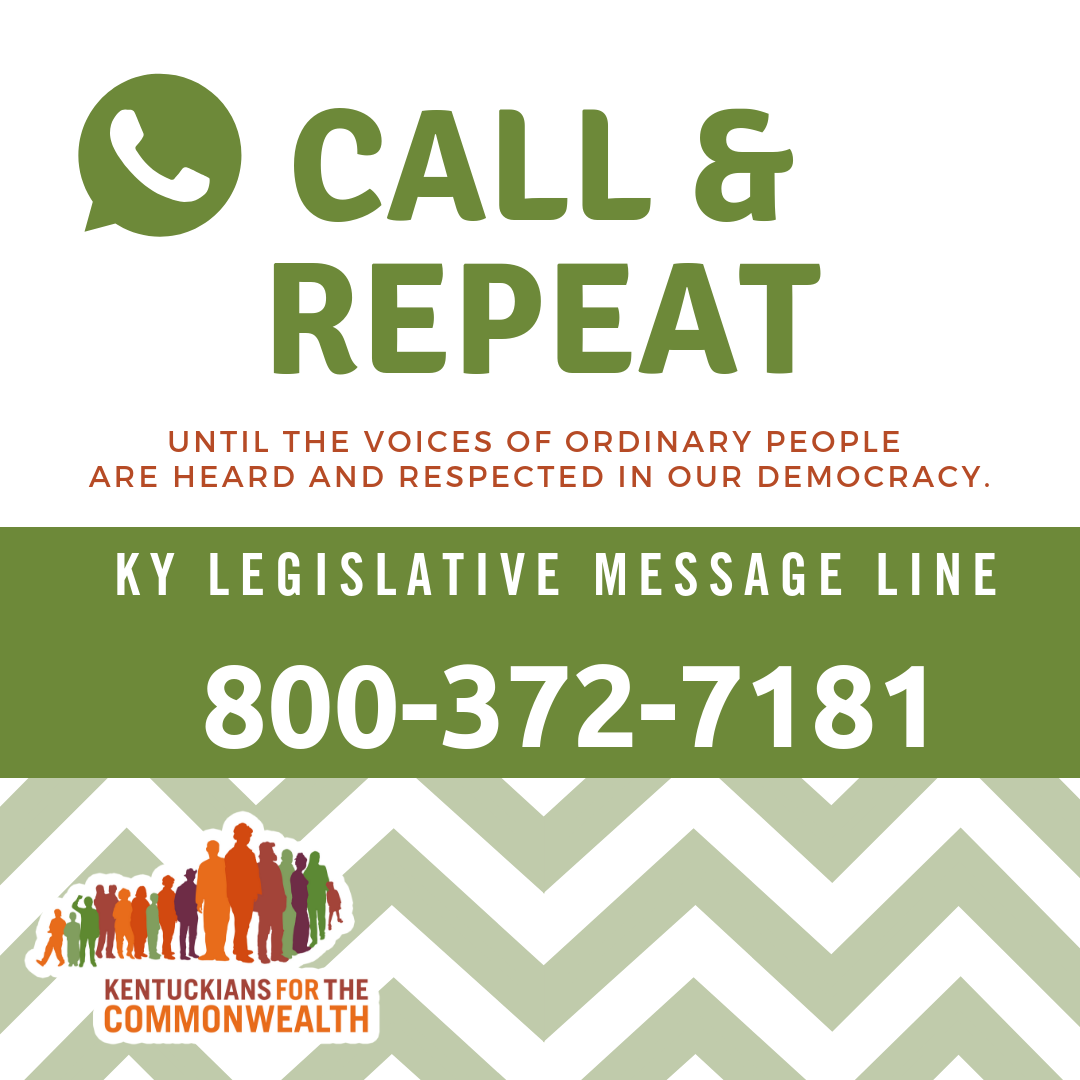 Call the toll-free Legislative Message Line (800-372-7181) to leave a message for any legislator or group of legislators.

Get informed – and help educate others!
Follow this link to

KFTC's bill tracker

, an updated list of bills we're following during the most current legislative session.
Learn more about KFTC's priority legislative goals, including:

Our priorities for each week vary as we find the most important ways to support racial justice, energy justice, economic justice and a healthy democracy.
So far, our top legislative goals include passing voting rights legislation and Breonna's Law, supporting public education and teachers, supporting initiatives to make voting easier and more accessible, passing statewide fairness and other positive changes.
We're working to stop bad bills such as an anti-immigrant/sanctuary bill, a "War on the Poor" bill, attacks on women's health care and other regressive policies.
We also support efforts to reverse past mistakes by the General Assembly, including making it much more difficult for miners to receive their black lung benefits and the 2019 legislation to squash the rooftop solar industry.
Restoring the right to vote
Grassroots Lobbying
The 2021 session of the Kentucky General Assembly began January 5 and included 30 working days, extended through March 30. Legislators met January 5-13, including an extraordinary Saturday session on January 9 in order to ram through priority Republican bills, recessed until February 2, met through mid-March, and then again March 29 and 30.
KFTC worked with allies to provide as many opportunities as possible for Kentuckians to help shape legislation and hold legislators accountable, including to sustain a number of Governor Beshear's vetoes. Voters need to hold legislators accountable when they come up for re-election in 2022.
Many committee meetings and House and Senate full sessions were live-streamed on KET, and sometimes on the Legislative Research Commission's YouTube channel, and are archived in these locations.
For questions or more information, email [email protected] or your chapter organizer.
Legislative and Action Days
January 5-13 (including January 9)– the General Assembly met for its organizational sessions, new member orientation and the ramming through of several bills in the first week.
January 7 – Gov. Beshear's gave his State of the Commonwealth and Budget address
February 2 – part 2 of the 2021 sessions began
February 10 – Demanding a Caring Economy: A Kentucky Budget Webinar, 6-7 p.m. CT / 7-8 p.m. ET; watch recording
February 10 – Facebook Live event about Breonna's Law (HB 21), 6:30 p.m. ET, hosted by Hood to the Holler on its Facebook page; watch recording
February 16 – Black History Celebration with the Kentucky Legislative Black Caucus; view recording
March 30 – Final legislative day and adjournment. The General Assembly will not meet again intil January 2022 unless called into special session by the governor.
See the status of bills KFTC followed during the 2021 session.

Resources you can use
Legislators' Frankfort offices and phone extensions

 (to be updated soon)
Learn more ...
KFTC works to strengthen our democracy in Kentucky in many ways, including:
Follow the links above to learn ways you can get involved and make your voice heard.
For more information or
to get involved:
Jessica Hays Lucas  |  Tel: 859-276-0563
© 2023 Kentuckians For The Commonwealth