We are Kentuckians: Meta Mendel-Reyes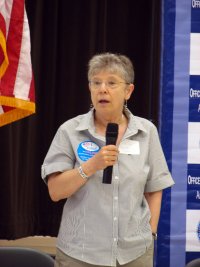 Meta Mendel-Reyes is an Associate Professor of Peace and Social Justice Studies and General Studies at Berea College and a member of KFTC's Steering Committee. She has been instrumental in racial justice work at KFTC and across the country and in fairness organizing in Berea.
How did you get involved with KFTC?
I have been a member almost since I moved down here, which would be 15 years ago, but I wasn't very active until the last three or four years. I was focused on my job. Focused on issues on campus around discrimination, including discrimination around sexual orientation. I had been an organizer and began to miss being a part of the community. Organizing was how I really saw how people getting together could solve their problems.
I thought all the issues were really important, but when we started the fight for a fairness ordinance here in Berea, that's when I got more involved. And I got involved partly because of the issue, but I also got involved because our chapter and organizer were just so good. Everybody had a voice. It just reminded me of why it was so important for people to be members, and active members, of organizations like KFTC.
What keeps you involved for the long haul?
I really think KFTC is special because of the way it combines issues with a genuine vision of a state that would be based on justice and equality. But I think another reason that I do it, quite frankly, is I really like it. I like the opportunity to be with people that have shared commitments who maybe come from totally different backgrounds. I'm not even a native Kentuckian. I get a lot of joy out of this kind of work. Even making telephone calls asking people to renew is something that is special when it's shared. I really feel like I have a place in KFTC, and I really feel like I can make a difference. And those things keep me going.
What is a favorite KFTC event or moment?
My favorite is down in little old Berea when we had a rally for a fairness ordinance. We had over 400 people. We were loud. We were noisy.  
At the moment, we're in the part of the story that's the low point. But I feel that even at the low point, being part of an organization that's really committed to that issue, as well as other issues, helps you get through those kinds of points. At the fairness rally in Berea, there were a whole lot of people standing with us. That seemed to me really the way KFTC works.
How are we more powerful together?  
Organizing has always seemed to me to be about relationships, and you become stronger when you have deep relationships with other people. I think KFTC makes it possible for those kinds of relationships to form. It doesn't mean that everybody is ever going to be exactly the same. But I do feel that to be a real movement, you have to have that level of relationship building and you have to have a space where that's important. For me it's important for us to go to Frankfort and lobby, but it's also really important for us to get together at an annual meeting.
How does KFTC bring people together?  
I think the commonality is democracy — by and for the people. I think what holds the issue is the goal of having people have some say about their lives, whether it's mining or dealing with disenfranchisement of former felons. This is not a state where the regular person has a lot of say. What ties us together is our belief that people should have some say about their lives.
I think KFTC is critical because it's important to have an organization that's multi-issue and social justice oriented. KFTC is the only organization that I'm aware of that's composed of Kentuckians who are trying to solve our own issues and create a state that really belongs to all of us.
Why should someone invest in KFTC as a member?
There's a Jewish saying that I like a lot that is something like, "It's not for you to complete the journey, but neither is it for you to desist from it." So we're all part of this long journey. It's not given to us to complete the journey, but we also don't have the option of sitting on the sidelines.
KFTC works because it's so grassroots, and that really does depend on everybody doing their share. The organization wouldn't be what it is if people didn't have the sense of ownership that you only get when you're making a contribution. This is your organization, and you want it to be as strong as it can possibly be.
Why did you choose to become a Sustaining Giver?
I wanted to contribute in a way that the organization could count on on a regular basis. I felt like what I get from the organization, and what I give to the organization, doesn't happen just once a year. It's an ongoing commitment, and I wanted my financial contribution to take the same form. It's also a lot easier. I don't have to think about it — my recurring contribution is just coming out.
Even more important than that, I just really wanted to help this organization that I believe in so much be as successful as it can be. I think each person, if they really look inside themselves, understands that our power depends on our members. That power is exercised by people being willing to make the contribution that you need to keep an organization like this going and growing.
© 2023 Kentuckians For The Commonwealth