Protect Kentucky's gains under the Affordable Care Act
Updated AHCA Toolkit
from Kentucky Voices for Health


What the "American Health Care Act"
would mean for Kentucky




What does the Republicans' proposed ACA replacement do?
Here are some elements of the bill:
►The bill would phase out Medicaid as we know it. Right now, states get the amount of money needed to cover the Medicaid-eligible pool of residents. Under the ACA, states like Kentucky expanded Medicaid to provide health care for significantly more people.
The Republican proposal would restructure how Medicaid is funded. It would cap the dollars that states received. States, then, would have to make choices with those limited dollars – who doesn't get care, and what is not covered.
This shift also has real implications for Kentucky's state budget. It would mean that Kentucky would lose $713 million in federal dollars every year – dollars that have gone toward health care jobs and resources that have made Kentucky a healthier commonwealth. (For more Kentucky impacts, see KCEP's analysis.)
► Right now, the ACA also ensures that drug treatment and mental health treatment are covered under Medicaid. Mental health is treated as an "essential benefit" – something that is necessary to our overall health.

The Republican proposal doesn't recognize the importance of mental and behavioral health. It's not clear what would be covered, especially under Medicaid. Even if these services are covered by insurance plans, the impact of the other changes would mean that more people would be buying plans that cover only catastrophes, which offer far less coverage for mental health. This would have disastrous effects on Kentucky communities.
► The Republican proposal would prevent Planned Parenthood from using federal dollars for family planning. That means that Planned Parenthood – already without any state funding in Kentucky – would be prevented from providing birth control and mammograms to women who are covered through Medicaid.
► Right now, under the ACA, low-income folks get tax credits to help with the cost of accessing coverage. The Republican proposal takes away those tax credits for lower-income folks. Instead, it makes tax cuts age-based, and gives more tax cuts to Health Savings Accounts. This only benefits people who have HSAs, and who can afford to shelter a chunk of their income in an HSA.
► Right now, under the ACA, insurance companies must cover people with pre-existing conditions. The costs of covering people with pre-existing conditions are offset by young, healthy folks enrolling for health care. This is why the individual mandate is important; it ensures the protection of folks with pre-existing conditions.
The Republican proposal also would require that insurance companies cover people with pre-existing conditions. But instead of offsetting the costs through encouraging healthy folks to get covered, it introduces "continuous coverage." This means that people who go without insurance for two months or more would be required to pay 30% higher premiums in the next year that they opted in. Over time, this cost increase (that pads the pockets of insurance companies) could mean that fewer and fewer people sign up for insurance, jeopardizing the stability of health care coverage.
Everyone should have affordable, quality health care – a message that was loud and clear in Kentucky's town hall events last month with members of Congress. Despite those messages and calls, Congressional Republicans have proposed legislation that not only would dismantle the Affordable Care Act, but also Medicaid as we know it.
UPDATE
: On March 16, the House Budget Committee voted 19-17 to send the American Health Care Act, which repeals and replaces parts of the Affordable Care Act, to the House Rules Committee.
READ MORE
A vote by the full House is expected to happen on March 24. Call your U.S. representative now to oppose the Republican health care bill.
The Republican proposal would amount to a $6 billion tax cut for the wealthy, insurance companies and the pharmaceutical industry – paid for by low-income Americans and people in poor health.
Millions of people have benefitted from the ACA. The Washington Post says, "There is no precedent for Congress to reverse a major program of social benefits once it has taken effect and reached millions of Americans."
We are pushing back. Because of public pressure, four Republican senators have already defected from the party position by refusing to support the legislation.
Kentuckians' voices are vital. Kentucky has benefitted from the ACA more than any other state. And Kentucky's Congressional delegation has a lot of power in deciding its future. Representative Brett Guthrie is the vice chair of the House Subcommittee on Health. Representative Hal Rogers's fifth district has benefitted from the ACA more than any other district, with the biggest drop in uninsured residents and a significant increase in health care sector jobs. And Senator Mitch McConnell is leader of the Senate, where the legislation will end up if it passes the House.
The House is expected to vote on the legislation as early as this week. Senator McConnell has stated that he'd call it up for a Senate vote as soon as possible.
Take Action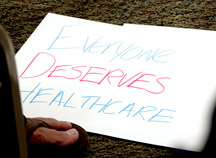 Call your U.S. representative. Tell them that you want to improve the Affordable Care Act – not gut it. You can find contact info here, or use the Families USA number: 866-426-2631. Below is a suggested message:
[Introduce yourself and where you live.]
"The House Republican health care plan puts the interests of the insurance companies, pharmaceutical industry and the wealthy above the best interests of Kentuckians. Represent Kentuckians and pull your support for the Republican health care plan. Improve the ACA, don't gut it."


Resources
---
---
An analysis from the Kaiser Family Foundation has found that the "American Health Care Act" – the House GOP's plan to repeal the ACA – would disproportionately cut tax credits used by low-income, older Kentuckians to help them buy health insurance. That would cause many to fall into poverty or lose coverage altogether.
Kentucky counties would face tax credit cuts from 32% to as much as 71%. Here's how much annual assistance is reduced for a 60 year old Kentuckian making $20,000 a year in a handful of counties:
Pike: -$6,140
Pulaski: -$3,220
Fayette: -$2,550
Logan -$5,800
Campbell -$3,390
Find your county here.
 
News coverage
© 2023 Kentuckians For The Commonwealth