Tell Mitch we demand help for people, not a corrupt corporate bailout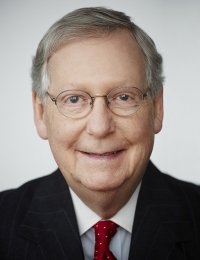 Take Action
Call or email Sen. Mitch McConnell today. Tell him Kentuckians demand a COVID19 relief bill that prioritizes public health; the well-being of workers and communities; and the security of our elections. Tell him you condemn his efforts to direct nearly half-a-trillon dollars to favored, wealthy industries with little to no requirements, accountability, or public benefit. 
Contact Sen. McConnell by email. 
Contact Sen. McConnell by phone at one of his offices:
Washington, D.C.: (202) 224-2499
Louisville: (502) 582-6304
Lexington: (859) 224-8286
Ft. Wright: (859) 578-0188
London: (606) 864-2026
Bowling Green: (270) 781-1673
Paducah: (270) 442-4554 
Then contact your US representative with the same message. 
James Comer (District 1)
Brett Guthrie (District 2)
John Yarmuth (District 3)
Thomas Massie (District 4)
Hal Rogers (District 5)
Andy Barr (District 6)
Can you take action today to insist that the federal aid package puts people first?
Our country's needs in this moment couldn't be more dire or urgent. The COVID19 crisis is landing on individuals and communities in multiple and devastating ways. Our hospitals are filling with people in severe respiratory distress. Essential workers on the front lines of the crisis are courageously serving others even while holding deep concern for their own safety. And last week alone, 3.3 million Americans filed for unemployment insurance.
But Sen. Mitch McConnell isn't helping. Last week he proposed a massive bill loaded with a half-trillion-dollar slush fund, designed to be shoveled out to President Trump's favorite industries (including hotels, cruise lines, the oil and gas industry, and others) with few strings attached. 
Many Kentuckians, together with people across the country, demanded better. Through negotiations with Democrats in the Senate this week, the relief bill working its way through Congress has improved. The revised bill now includes more support for small businesses, hospitals, the unemployed, and state and local governments. It also gives the same cash benefit to all people earning under $75,000, a change from McConnell's plan to give higher earners twice as much as lower-income folks. The Senate's bill also established important limits and oversight about how the massive corporate bailout program can be used. 
The relief bill now goes to the House. 
KFTC and many other organizations are calling on Congress to pass a People's Bailout, consistent with these core principles:
* Make health the top priority, for all people, with no exceptions
* Provide economic relief directly to people
* Rescue workers and communities, not corporate executives
* Make a downpayment on a regenerative economy, while preventing future crises
* Protect our democratic process, and each other
 Your voice matters in this critical moment. Please use the information to the right to contact your members of Congress to demand a COVID19 relief bill that prioritizes public health; the well-being of workers and communities; and the security of our elections. 
-------
In this time of crisis, Kentuckians know we can count on a few true things:
We can count on each other to keep showing up in courageous and inspiring ways. We are grateful to everyone following public health guidelines and staying home if they are able to do so. And we are indebted to all those working to keep other folks safe and secure, including all parents, guardians and care givers; nurses and doctors; grocery store and gas station employees; postal workers; emergency responders; neighbors; and many more. 

We can count on Gov. Andy Beshear to lead our state through this crisis with purpose, clarity and compassion. His decisive and level-headed leadership is saving lives and helping to protect our doctors, nurses and hospitals. What a difference one election can make! (All the more reason he should quickly veto SB 2, a voter suppression bill recently passed by the Kentucky Senate.)

Sadly, it seems we can also count on Sen. Mitch McConnell to use his power to protect wealthy corporations at the expense of people in need. Let's use our voices to demand that he and other elected leaders show up for folks most impacted in this moment.
Additional information and actions
© 2021 Kentuckians For The Commonwealth