Coal Ash
Coal ash is a residue left over from the burning of coal. The smokestacks and furnaces of coal combustion plants are required to have filters that keep coal ash from spewing directly into the air; however, this leaves a leftover deposit (also known as coal combustion waste) that contains concentrated amounts of toxic heavy metals. This residue is then either stored in landfills (dry storage), in impoundments (wet storage), or is reused in various daily products.
Coal ash is the largest industrial waste stream in the U.S. and has never been regulated to protect the public.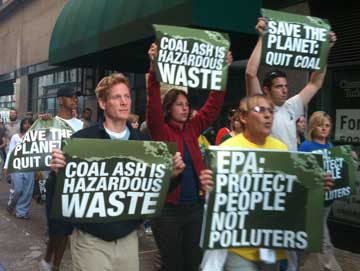 As Kentucky's dependence on and burning of coal remains steady, coal ash has become an increasing problem as it accumulates on our land and in our water.
The heavy metals in coal ash such as arsenic, lead, mercury and copper, when released into the environment, cause health problems to humans and animals. Because there are no federal regulations for the storage of coal ash, and it is much cheaper for companies to store the coal ash improperly (by not lining landfills or moving coal ash offsite to less populated areas), these poisonous chemicals become airborne and leach into our water.
Making coal ash disposal safer
Shifting away from burning coal will eliminate the coal ash disposal problem. In the meantime, we need to make sure the public is protected from existing and newly generated coal ash. Unfortunately, state law does not protect Kentuckians and the federal EPA has delayed safeguards that they have acknowledged for years are needed. In April 2012, KFTC joined a national coalition of community groups to sue the EPA, asking that the EPA be ordered to implement the protections required by law.
Learn More:
    Impacts on health
    KFTC Coal Ash Campaign
    Analysis of EPA coal ash proposal (download)


"These landfills have not even been required to adhere to standards applied to municipal landfills. Many of our coal ash landfills do not have any type of liner and are currently leaching toxic chemicals into our groundwater, rivers, and streams."
Mary Love
Coal ash facts

130 million tons of coal ash is produced in the United States each year
Kentucky produces 8.6 million tons of coal ash per year that contains about 4,800 tons of toxic metals
coal ash contains toxic heavy metals such as arsenic, lead, mercury, and copper
coal ash is reused in products such as concrete, playground fertilizer and even bowling balls; however, toxic chemicals may leach out of these products, which remain largely untested
coal ash disposal is unregulated and highly toxic
according to a 2011 EarthJustice report, Kentucky ranks in the top 10 worst states in regards to coal ash disposal
Kentucky has 44 high hazard coal ash storage impoundments, meaning that should a dam break at a wet storage location, it is likely to cause significant damage – including loss of life.
© 2023 Kentuckians For The Commonwealth