Kentucky Voting Rights Bill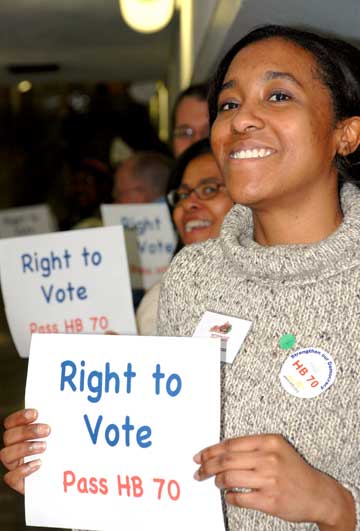 Kentuckians know that our democracy works best when elections are free and fair. When more of us have a say at the ballot box, we can elect leaders who will stand up for all of us.
In most states, voting rights are respected after someone completes their sentence, if they were ever denied. Kentucky is one of only two states that permanently take the right to vote from everyone with a felony in their past, unless they can navigate the complicated process to get a pardon from the Governor, or go through an expensive process of having their record expunged for a limited number of Class D felons.

We can change that. 
Healthy Democracy. Healthy Communities.
312,00 people in our state can't vote because of these laws – that's about 1 in 11 voting age Kentuckians. Kentucky also has the nation's highesr rate of Black voter disenfranchisement. 1 in 4 Black Kentuckians cannot vote due to the combination of over-policing in communities of color and our voter disenfranchisement laws.

Many of the issues Kentuckians face are impacted by who is able to vote. Disenfranchisement harms families by discouraging civic participaton and decreases the political power of entire communities.


Changing Kentucky's Constitution
A change is needed in Section 145 of the Kentucky Constitution to correct this problem.  Our elected leaders in the General Assembly can pass legislation that gives Kentucky voters a say on an amendment to respect the voting rights of thousands of our family members, friends and neighbors.

Download a copy of our voting rights amendment fact sheet.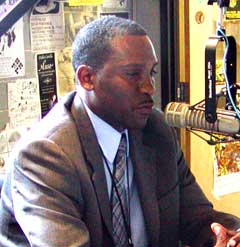 "I serve in the U.S. military and could be asked to take a bullet for this democracy, but I'm not allowed to participate in it. 
I feel strongly about this country … and it's disheartening to know that individuals like myself can't vote. Just because you've been convicted of a crime doesn't mean that you can't be rehabilitated or just get yourself back together. Particularly with myself, I feel like I've changed my life and I should be able to be a part of the election process. By denying that, it's really denying my fundamental rights."
Robert Jones
KFTC member
Franklin County
© 2023 Kentuckians For The Commonwealth