Arty Pie Poster Party!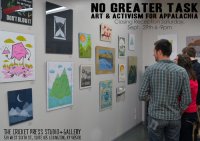 Rosanne and Tim's pie, art, and music house party, benefiting Kentuckians For The Commonwealth.Saturday, November 17th starting at 7:30pm at the home of Rosanne Fitts Klarer and Tim Klarer - 374 Muir Ln, Georgetown, KY. 
Featuring: Delicious Pies, Live Musicians (the band Stir Fry Musette: Jeff Ellis, Joanna Hay, and Ben Griffit), and art (featuring posters from the No Greater Task: Art and Activism for Appalachia Poster Show)!
RSVP to Rosanne Fitts Klarer by calling 859-608-9116 or emailing [email protected].
Suggested Donation - $25.  Donations of Pie or art are also appreciated!
Directions - once you get to the end of Muir Ln, we'll have signs guiding the way.  Our house has a giant glowing peace sign. 
We're also still accepting donations from artisits and pie makers.  There will be a people's choice prize for the best pie!
 Directions from New Kroger's in Georgetown to KFTC Arty Pie Party: It's circa 8 miles
1.Turn Right out of Kroger parking lot onto US-62W By-Pass continue for 1 mi
2.Turn Left onto Payne's Depot/US 62 South for 2 miles
3.Turn right onto KY- 1973/Ironworks Pike headed West for 3.6 miles
4.Turn left (w/pie party sign) onto Midway Rd/Ky-341 for.5 mile *(if you encounter bridge you've gone too far)
5.Take first Right onto MUIR Ln continue to the end and past cluster of 4 mail boxes c..5 mile
6. take the right fork up the hill  we are the second driveway on the left w/the giant glowing peace sign on top. Look for 374 address marker.
 If you get lost call: 859-846-4837(H) or Tim's cell:859-608-3611.
November 16, 2013 - 7:30pm
859-608-9116
Event Venue:
Rosanne and Tim Klarer's home
Event Location:
374 Muir
Georgetown
,
KY
40324
© 2023 Kentuckians For The Commonwealth