Imagining – Organizing – Thriving: Our Future, Together
KFTC 2021 Annual Membership Meeting
Registration Information
The 2021 Annual Meeting will be held online on Friday night and throughput the day on Saturday, July 30-31. A couple of chapters are planning in-person evening gatherings.
To participate, please REGISTER HERE and more details will be sent to you.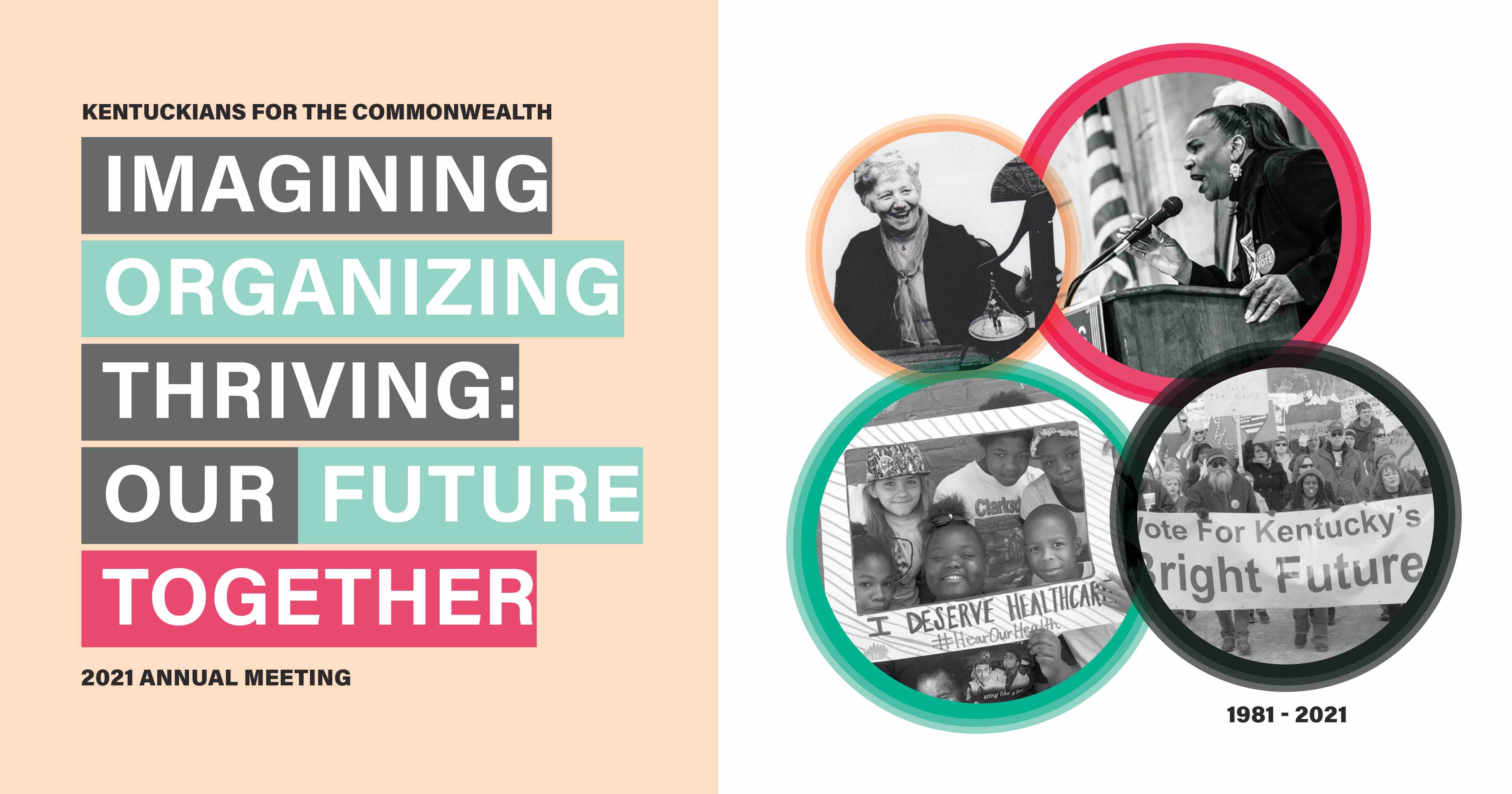 The future is what we make together.
We can make a future where every Kentuckian has a safe home, clean water, and health care. Where we can send our kids to public schools that equip them to pursue their dreams. Where our jobs earn us a good living and help us live a good life. Where we all have a say in the decisions that impact our lives. We can make a future where we all thrive.
That future is possible, but first we have to imagine what we truly want for ourselves, our families and communities, for KFTC, and Kentucky. And then we have to organize and take action together to create it. 
That's why KFTC members are envisioning and implementing an Organizational Change Initiative to set the course for KFTC's future as we celebrate our 40-year history. It's why we push for visionary policies like the THRIVE agenda, and work to impact elections and elect bold candidates.
At this year's virtual annual meeting, members will celebrate the first forty years of KFTC while we learn with each other about issues and strategies that can help shape the next forty years in Kentucky and of KFTC – starting now.
SCHEDULE
Friday, July 30 (times are eastern)
7 p.m.  Opening Session
Welcome and Land Acknowledgement
Introduce Theme
Group Agreements
Break into small groups for introductions and sharing 
7:30 p.m. Story telling (Celebrating Burt Lauderdale's Organizing Legacy and 40 Years of KFTC)
An interactive timeline of organizing in Kentucky, the South, the nation. With a special emphasis on stories about retiring Executive Director Burt Lauderdale and his impact.
9 p.m. Adjourn
Saturday, July 31
10 a.m.  Morning Opening and Plenary Session
We'll gather up together on Saturday morning to hear chapter petitions from several chapters and get an update on our Organizational Change Initiative – why OCI, what we've done, and where we're going.
10:30 a.m.  Morning Workshops (Choose one. Workshops will be recorded and all recordings will be shared with participants later.)
12 p.m. Lunch Break
2 p.m. Annual Business Meeting (for KFTC members only)
At our annual business meeting, we'll hear some chapter petitions, elect the KFTC Executive Committee and Kentucky Coalition board members, and share appreciation for the work folks have done over the past year. (The KFTC Leadership Development Committee has recommended, and the Steering Committee approved, a slate of leaders for consideration by the members voting at the Annual Business Meeting. You can read about the nominees and the nominations' process here. )
3 p.m. Keynote Address: Charles Booker
Some chapters might decide to gather for an in-person celebration on Saturday evening. Check your local chapter pages for details. 
July 30, 2021 - 7:00pm

to

July 31, 2021 - 4:30pm
Event Venue:
Online, with in-person options
© 2021 Kentuckians For The Commonwealth