Ask Governor Bevin to veto Youth Incarceration Bill
The 2018 General Assembly is mostly over, with just a few days left for the Governor to veto bills. Members and Kentuckians are processing, listening, and strategizing about what comes next. In the meantime, take this one last action.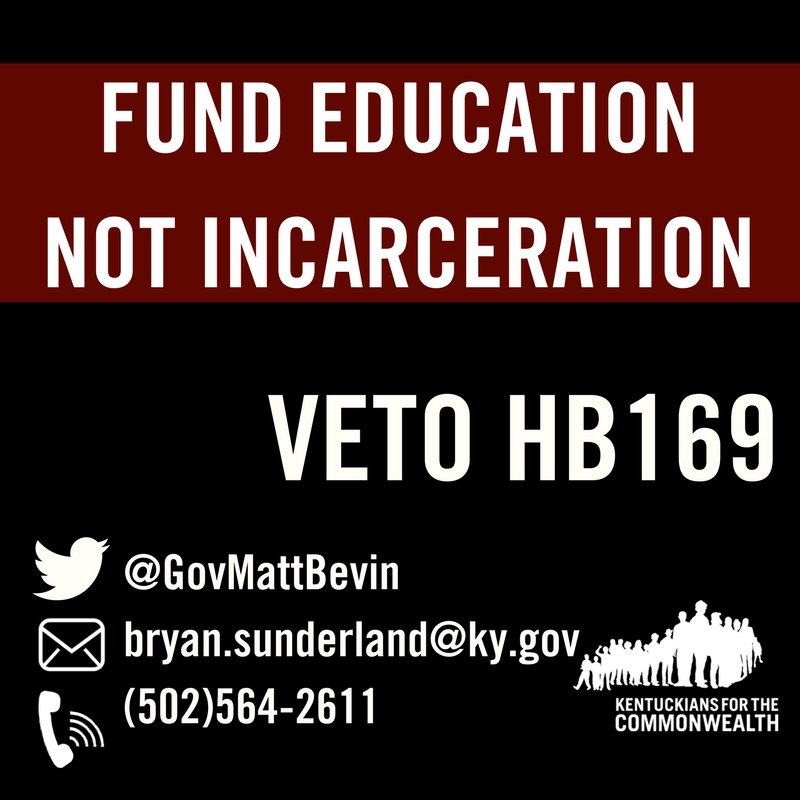 Please call Governor Bevin and ask him to veto House Bill 169.
Phone: 502-564-2611
Online contact form
Twitter: @GovMattBevin
Message: "Veto House Bill 169. It would lead to even higher levels of incarceration of young people of color, and would cost an additional $19 million a year that we could invest in community supports for preventing gang violence."
House Bill 169, the "Youth Incarceration Bill," received final approval by the House and the Senate on Saturday. The bill expands the definition of "gang membership," and mandates harsh sentences even for misdemeanors if one is part of the new broad definition of a gang (which can be as few as three people).
The Jackson Free Press reported in March that everyone arrested under a similar Mississippi law from 2010 through 2017 were African American. Yet the Kentucky Senate rejected an amendment to add a racial impact study to the bill. 
Please contact the governor now and ask him to veto HB 169. 
According to the Lexington Herald-Leader, the legislation:
"… imposes harsh mandatory sentences for criminal gang activity, provides no violence prevention, youth or jobs programs, and lacks any rehabilitation component. It would raise prison costs by an estimated $19.5 million. And, as witness after witness testified, its penalties will fall harshest on young black Kentuckians who already are disproportionately imprisoned. The deaf ear that the overwhelmingly white legislature turned to black leaders' pleas against HB 169 was disturbing."
Thanks for taking action!
© 2022 Kentuckians For The Commonwealth