April Browning: Celebrating the life of a friend and activist
Posted by: Janet Tucker on April 11, 2014 at 02:46pm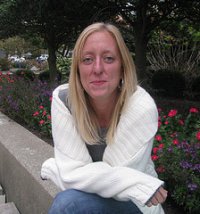 Our community lost a strong leader the 7th of this month with the passing of April Browning. Her strong voice for justice and equality could be heard on many fronts.  In about every speech April gave it often started out with, "First and foremost, I'm a mom." She said in one interview, "My son Elijah . . . makes every day worth living and special . . . That's the first and most important thing you need to know about me."  She went on to explain, "But after that, it's really important to me to take initiative to make my community a better place - for Elijah and everyone else."
April was a board member of Central Kentucky Council for Peace and Justice.  She was the inspiration and one of the founders of Occupy Lexington in 2011.  Her voice was heard at the rallies organized by Kentuckians Against the War On Women.  She was a spokesperson around the restoration of voting rights for former felons in Kentucky and for Kentuckians For The Commonwealth. 
April was born in Flint, Michigan, but grew up in Central Kentucky.  She understood first hand the struggle of low-income parents in Kentucky.  She understood first hand being denied rights as a former felon for a mistake long past paid for. She understood the struggle of the 99% against the 1%.
In her words, "I am politically active and I feel that my voice as well as thousands of other Kentuckians' voices should be heard. ... I'm fighting for progress across the board and this fight is personal."
We mourn the loss of her leadership and activism, but her spirit will remain with us as the struggle continues.
May 16, 2021
| Lexington Herald-Leader
April 27, 2021
| The Courier-Journal
April 8, 2021
| Lexington Herald-Leader
Featured Posts
Bonifacio Aleman on September 26, 2023
Bonifacio Aleman on September 26, 2023
Bonifacio Aleman on September 26, 2023
© 2023 Kentuckians For The Commonwealth