Art Nurtures Justice auction a success for Rolling Bluegrass
Posted by: Rosanne Fitts Klarer and Amelia Cloud on November 25, 2020 at 01:52am
Grassroots fundraising in a pandemic is challenging at best. We thought it wouldn't work. Nevertheless we persisted because it's how we stay tight as a chapter. Together we planned an online fundraiser.
Art Nurtures Justice began with a 90-minute Facebook Live event on November 14 and continued with an online auction through November 20.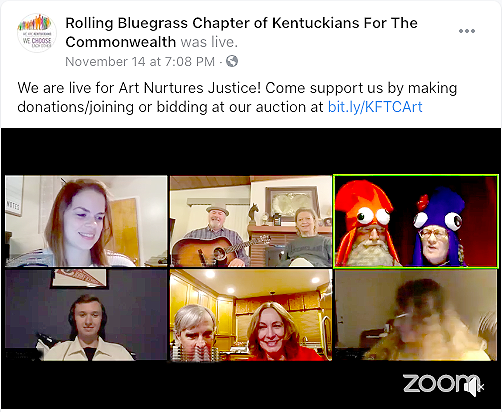 As we planned this event, we communicated often, and we encouraged each other. We laughed a lot and brainstormed ideas about how to make it work. What really convinced us to continue with this project was when we started asking artists to donate art. They were almost all glad to help. Friends like Casey Papendieck of Turtle Farm Pottery in Wolfe County even met us in Lexington to hand off their donation.
Also, we were able to get help from talented KFTC intern Syd Gregory! She's very creative and was able to maneuver through and teach the planning team the various platforms we used for this event. We utilized Facebook, Facebook live, Zoom and the BetterWorld online auction site. She also offered helpful advice on how to photograph art work to show online.
Our planning team met on a regular basis. Six weeks before the event, we had Zoom meetings once a week and went over our action steps and ideas for how to make this event successful. It takes a village.
A big shout out goes to Deb Graner, a voting rights warrior from Frankfort who was able to get several pieces of art donated from Frankfort artists. She connected us to Carey Sudduth of Capital Pride, who beautifully performed as Jennifer Grant in front of the old Capitol for our grand finale. We also had three other musicians perform social justice theme songs via video or live on Zoom. This music really helped mix up the 90-minute program. 
We showcased some of the awesome art and gift baskets that we had up for auction through an online platform called BetterWorld. This one-week online auction and donation event brought in $1,764 and celebrated our chapter even in a pandemic!
We found it to be a positive distraction from this prolonged and often nasty general election cycle. Together we'll get through this health crisis. Helping KFTC to grow stronger gives us hope for a brighter future for Kentucky!
May 16, 2021
| Lexington Herald-Leader
April 27, 2021
| The Courier-Journal
April 8, 2021
| Lexington Herald-Leader
Featured Posts
Meredith Wadlington on September 22, 2020
Lisa Abbott on June 9, 2020
Caitlin Sparks on May 9, 2020
© 2023 Kentuckians For The Commonwealth