Citizens organize, administration listens, communities protected
Posted by: jerry on March 31, 2010 at 08:00pm
The U.S. Environmental Protection Agency made a major announcement today that will lead to much greater protection for streams in Appalachia's coal-producing region.
Guided by a growing body of science, EPA will propose water quality standards that could have the effect of prohibiting most valley fills associated with mountaintop removal mining.
"Finally we have some good news. This has been a long time in coming," said Rick Handshoe, who sees the streams around his home in Hueysville regularly run orange from mine runoff. "It sounds like they're going to finally enforce the law, the Clean Water Act."
Among the various standards and guidelines EPA will apply is one for conductivity, a general measure of stream quality.
"By looking at the conductivity standard I think they'll find a lot more streams impacted than they anticipate," Handshoe said. "The cumulative impact is what this is all about. With as many mines as there are here, the combined impacts are a serious problem."
EPA Administrator Lisa Jackson announced the new EPA guidance at a press conference this afternoon. "Let me be clear, this is not about ending coal mining.  This is about ending coal mining pollution," Jackson said.  "Coal communities should not have to sacrifice their environment, or their health, or their economic future to mountaintop coal mining.  They deserve the full protection of our clean water law."
"We expect this guidance to change behavior," Jackson continued, adding that doing what we have been doing is not acceptable. "Minimizing the number of valley fills is a very key factor. No or very very few valley fills are going to be able to meet standards like this."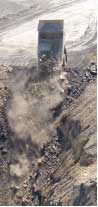 Jackson emphasized that EPA's actions are being driven by science. Studies increasingly show the negative consequences of mountaintop removal and valley fills on water quality and community health. Earlier this year, a distinguished group of environmental scientists called for an immediate halt to mountaintop removal and valley fills based on their scientific findings.
New research also is showing that people are sicker and die younger in areas where there is a lot of coal mining. Jackson also mentioned those concerns during the press conference.
"A big part of this is about the human impact, the health impact, to the people who live in areas where the mining is going on," said Handshoe, who participated in a conference call with Jackson after the announcement. 
Handshoe also was part of a delegation from KFTC and the Alliance for Appalachia that met with EPA water officials in Washington, D.C. last month. He said the officials indicted that the Obama administration had "released" them to enforce the law.
"They've known this problem has been here for a long time. With this administration they are able to enforce this now – what the EPA should have been doing all along, protecting the people and the environment," Handshoe said.
May 16, 2021
| Lexington Herald-Leader
April 27, 2021
| The Courier-Journal
April 8, 2021
| Lexington Herald-Leader
Featured Posts
Meredith Wadlington on September 22, 2020
Lisa Abbott on June 9, 2020
Caitlin Sparks on May 9, 2020
© 2021 Kentuckians For The Commonwealth