Community forum gives Bowling Green residents a common focus
Posted by: Caroline Eggers on May 12, 2019 at 05:54am
Bowling Green Daily News
Reprinted with permission
 There was anger, there were tears and there was hope.
Bowling Green residents met Thursday at Mount Zion Baptist Church to discuss problems and solutions – primarily focusing on the community's homelessness, transportation struggles and the lack of affordable housing and tenant rights. The forum followed last week's Poor People's Campaign event and was co-organized by local members of the Poor People's Campaign and Kentuckians For The Commonwealth.
There were panelists and a moderator, but every person in the room took advantage of an equal opportunity to speak.
Several people described frustrations with currently being homeless and struggling to find aid, while a few others shared stories of formerly being homeless and successfully turning corners.
Ellie Brashear, a Western Kentucky University student, described how she lived in and out of homelessness for nearly a decade without realizing she was homeless, since she was couch surfing or sleeping in her car.
"I thought it was what college students did," she said.
It began shortly after she started at WKU as a freshman in 2009. She secured housing two years ago, turned around and helped WKU partner with the Housing and Homeless Coalition of Kentucky to initiate a pilot program of homeless services for students. 
Teresa Christmas, owner of Art Matters in downtown Bowling Green and a member of the Poor People's Campaign, suggested that the city-county planning and zoning board needs more diverse members to help solve homeless and affordable housing issues.
"We need to get rid of corruption in our city," Christmas said.
Andrea Denise Bolden, a businesswoman who's involved in Feeding America and the Warren County NAACP, discussed the need to check personal biases and instead be guided by genuine love and respect for other people.
Bowling Green City Commissioner Dana Beasley-Brown discussed the importance of fighting for issues until they're deemed unacceptable and expressed excitement about the forum.
"We are in a moment," Beasley-Brown said. "I have never seen this before in Bowling Green. I believe there's power in what we're doing."
Megan Huston, senior minister at First Christian Church, noted that the community wouldn't solve any issues at the forum, but if residents continue coming together, they could tap into their collective power.
"If we want change, we have to organize, organize, organize," Huston said.
To conclude the event, the group held hands in a big circle and sang, "Somebody's been hurting my people, and we won't be silent anymore."
Afterwards, people hugged, exchanged phone numbers and vowed to continue what they started.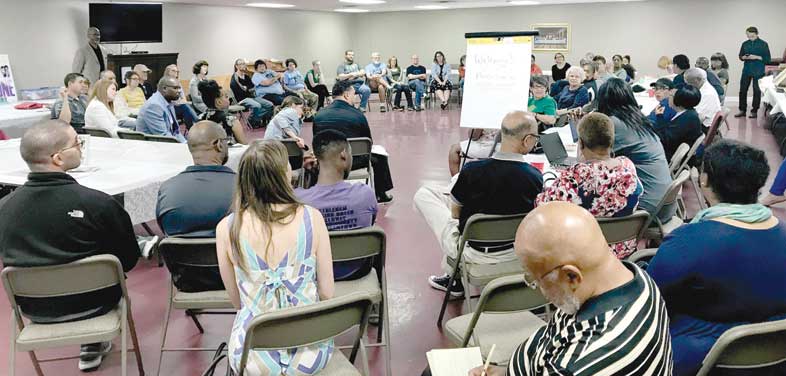 May 16, 2021
| Lexington Herald-Leader
April 27, 2021
| The Courier-Journal
April 8, 2021
| Lexington Herald-Leader
Featured Posts
Meredith Wadlington on September 22, 2020
Lisa Abbott on June 9, 2020
Caitlin Sparks on May 9, 2020
© 2023 Kentuckians For The Commonwealth