Community members interested in making a difference meet in Buffalo Trace area
Posted by: KFTC Staff on July 2, 2019 at 04:26pm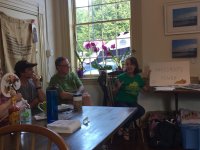 On June 29, more than 20 KFTC members, and folks interested in finding out more about KFTC, met up in Maysville for an informal get-together. The vast majority of people in the room came from Robertson, Bracken, Fleming and Mason counties – counties often referred to as the "Buffalo Trace" area, where KFTC does not currently have a chapter.
KFTC members Susan McGee (Robertson County) and Barbara Morgan (Bracken County) organized the Meet and Greet after several months of planning. Over the past year, McGee and Morgan had become more involved in KFTC through hosting a Power House Energy Efficiency workshop, attending the 2018 KFTC Annual Meeting and doing some voter registration and door-knocking during last year's General Election. 
 McGee also participated in the second cohort of the KFTC Organizing Academy. As their involvement deepened, both McGee and Morgan were excited to scope out the interest from their friends, families and networks had in local grassroots organizing. 
 McGee facilitated the agenda of the three-hour Meet and Greet, which was held at Lil Jumbo's Coffee Company in Maysville, owned by KFTC member Sean Connelly. Nick Denham, a well-known local musician, played music while KFTC members and friends mingled. 
 The group then introduced themselves and the issues they felt most passionately about – everything from meaningful voter empowerment to trans liberation to the adequate funding of public education. 
 Member Jill Dew, who lives in Northern Kentucky, reflected that "if you want to make change, you have to do it locally!" Morgan then shared her story of becoming more politically activated, and walked folks through the strategies and issues KFTC adheres to in order to create meaningful change. 
 "Where does power come from? Talking. And listening. The stories [Susan and I] heard doing voter registration were powerful!" she reflected. 
 By the end of the event, the group had set a date to meet again on July 27 at 2 p.m., again at Lil Jumbo's. They also planned to gather on July 9 to train themselves on how to register voters in their community. All are welcome to join!
May 16, 2021
| Lexington Herald-Leader
April 27, 2021
| The Courier-Journal
April 8, 2021
| Lexington Herald-Leader
Featured Posts
Meredith Wadlington on September 22, 2020
Lisa Abbott on June 9, 2020
Caitlin Sparks on May 9, 2020
© 2023 Kentuckians For The Commonwealth