Danny Cotton - We were lucky to have him
Posted by: Dave Newton on April 18, 2013 at 03:44pm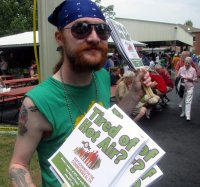 Danny Cotton, a KFTC leader and member of the Central KY Chapter and the statewide Voter Empowerment Strategy Team passed away earlier this month.  He was 27 years old.
He was a writer, an activist, a great thinker, and a great friend to many of us.  
KFTC first got to meet Danny at Fancy Farm, a political event in far Western KY.  Even before we met, he was holding a big sign opposing a massive state subsidy for Peabody Coal.
After that, Danny became one of our most prolific citizen lobbyists, visiting Frankfort day after day to talk to legislators about a range of issues important to him, though he focused voting rights issues.
And he returned to Fancy Farm and dozens of other events every year, usually in his trademark green KFTC t-shirt with its sleeves cut off.  
He was also a KFTC intern while he studied at UK, and helped to form the UK KFTC group which is still doing great things today.
Danny also loved registering and mobilizing voters and he was good at it, participating in large scale voter registration events in Lexington that brought in hundreds of new voters to build up our Democracy.  
After his funeral over a dozen former UK KFTC members who went to school with Danny gathered for a cook out, to listen to some of Danny's favorite music (Johnny Cash, Willie Nelson, Led Zeppelin), read some of the things he'd written, told stories about Danny's life.
Stories shared from around the room shifted from off-color stories of shenanigans and misadventures to moments of profound levity, admiration, regret, and hope - the kind of sense one might get from reading Mark Twain or talking to Danny Cotton.
"Danny was a good friend and a good man. His loyalty and friendship was always something I could count on. His passion and empathy will truly be missed" - John Ghaelian

"He was a genuinely kind and understanding person -- the kind that we need more of in this world." - Wesley Robinson
May 16, 2021
| Lexington Herald-Leader
April 27, 2021
| The Courier-Journal
April 8, 2021
| Lexington Herald-Leader
Featured Posts
Meredith Wadlington on September 22, 2020
Lisa Abbott on June 9, 2020
Caitlin Sparks on May 9, 2020
© 2023 Kentuckians For The Commonwealth