Empower Kentucky Leadership Network digs into Race-Class Narrative with JaNaé Bates
Posted by: KFTC Staff on April 16, 2020 at 02:16pm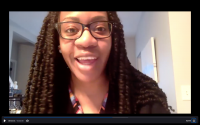 The Empower Kentucky Leadership Network–an ongoing cohort of 40 Kentuckians committed to building a stronger movement for climate and just transition–continues to grow and learn through monthly webinars and peer coaching calls. 
 The cohort's April webinar concerned the "race-class narrative" and featured a special guest speaker–Minister JaNaé Bates, the communications director of Faith in Minnesota and ISAIAH (a faith-based coalition of clergy, congregations, and people of faith acting for racial and economic justice). 
 The race-class narrative, or "RCN" is a narrative strategy framework and organizing tool that KFTC leaders have been digging into for over a year. The RCN draws on an incredible set of empirical research to illustrate how talking explicitly about race and class is imperative to blocking the dog-whistle racism that the right uses to divide working people, and to successfully energizing and expanding our base. 
 Some members of the cohort had heard about the race-class narrative already through other leadership roles they play at KFTC, or through their familiarity with KFTC's new RCN-grounded narrative campaign, "we are Kentuckians–we choose each other." But we were curious to dig into how the RCN could apply to our work on climate justice and just transition, as well as how we could use it to communicate effectively about the COVID-19 pandemic. 
 JaNaé, who is a United Church of Christ Minister, has been working to operationalize a stunningly successful RCN-based communications campaign in Minnesota, called "Greater than Fear." She started us off with a basic grounding in the narrative, breaking down that we can combat the basic elements of the "dog-whistle politics" narrative–racial fears, economic resentment, and distrust of government–by evoking cross-racial solidarity, shared prosperity, and the notion of "government fo all." The race-class narrative research has built on these findings to propose a basic 5-part anatomy of a winning narrative: (1) Open with shared value, naming race and class; (2) name racial scapegoating as a weapon that economically harms all of us; (3) emphasize unity and collective action to solve problems; (4) invoke previous cross-racial solidarity wins, as a way to combat cynicism; and (5) connect joining together to achieve desired outcomes.
 Another key principle that JaNaé emphasized is that the most strategic messaging is geared towards "engaging and unleashing" the progressive base into repeating a bold message capable of moving "persuadables" towards our vision. This bold message should be strong enough to alienate our opposition; although it feels like a natural instinct to try to cater to the opposition sometimes, this is usually a sign that we're weakening our message so much that neither the base nor persuadables will find it energizing. 
 "You would never want to say anything that's going to undermine what our vision is for the world," JaNaé advised us.  
Before sending us off to practice, JaNaé noted that there are some recently emerging pieces of research on the race-class narrative that she's excited to unpack more. For instance, when discussing alternative energy, the term "renewable" actually resonated more with base and persuadable audiences than the term "clean." And the term the "Green New Deal" isn't really well known enough to resonate with audiences across the country–but that doesn't necessarily mean we need to stop saying it or advocating for the world it would make possible. 
 The group wrapped up by practicing rephrasing racial scapegoating statements about the COVID-19 crisis, into messages that could unite readers across race and class to push for the policy solutions we really need for this pandemic. 
 "It was a lot harder than it looked!" reflected one cohort member.
 Members of the cohort expressed how fascinating and helpful this narrative strategy was. 
 "Seems like this whole framework is a way to reframe small-self individualism towards aspirational collectivism," member Bob Martin of Rockcastle County reflected.
 "When [JaNaé] talked about how our real opposition [is] our own cynicism–I really appreciated that. Because it's like, how can we be fully investing ourselves into own work, if at the same time we believe it's not possible. And how are we going to bring people along with us through that?" said Mikaela Curry of Pike County.
 Although the webinars are only available live to the cohort, you can watch a recording of our webinar with JaNaé, as well as our previous sessions, at kftc.org/leadership-network. 
May 16, 2021
| Lexington Herald-Leader
April 27, 2021
| The Courier-Journal
April 8, 2021
| Lexington Herald-Leader
Featured Posts
Meredith Wadlington on September 22, 2020
Lisa Abbott on June 9, 2020
Caitlin Sparks on May 9, 2020
© 2023 Kentuckians For The Commonwealth