Forward Together, Not One Step Back!
Posted by: Hattie Nunley on September 22, 2020 at 04:18pm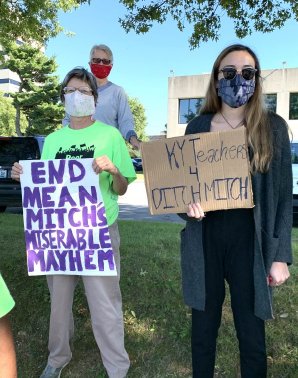 We couldn't have picked a more beautiful afternoon to gather together – from a distance, of course! – and show our support for the Kentucky Poor People's Campaign! More than 50 vehicles convened at Senator Mitch McConnell's Lexington office yesterday and encircled the building complex for over an hour, condemning his blatant disregard for the lives of Kentuckians and demanding a comprehensive COVID-19 relief package.
There was no shortage of revolutionary energy from caravaners, with one woman saying, "I want us to be heard about the things that we need so that everyone can have an equal playing field...We need Mitch to make room for someone else! I'm here to support the cause and allow my voice to be heard in any way I can … My children are here with me, and I'm going to teach them that their voice and their vote matters."
The event was part of a statewide "Moral Monday Caravan and Digital March on McConnell" action, with protestors and KFTC members in Paducah, Bowling Green, London, Ft. Wright, Louisville and Lexington participating in simultaneous caravans and tuning into an inspirational livestream led by the Poor People's Campaign co-founders Rev. Dr. William Barber II and Rev. Dr. Liz Theoharis.
It also came just days after the unfortunate passing of Justice Ruth Bader Ginsburg, a tragedy that McConnell is unjustly using to further delay the progress and change that our nation so desperately needs. But no matter how bleak things may seem in the wake of this loss and the uncertainty that lies ahead, there is no question that moments where we can join together and share a collective vision for a better Kentucky and a stronger democracy fill us with hope.  
See the news coverage of the event here:
MSNBC national coverage with Rev. William Barber
Lexington news coverage on WKYT-TV
Cincinnati / Kentucky Enquirer
May 16, 2021
| Lexington Herald-Leader
April 27, 2021
| The Courier-Journal
April 8, 2021
| Lexington Herald-Leader
Featured Posts
Meredith Wadlington on September 22, 2020
Lisa Abbott on June 9, 2020
Caitlin Sparks on May 9, 2020
© 2023 Kentuckians For The Commonwealth