Grassroots power is vital to community development
Posted by: Elizabeth Hawks on September 20, 2019 at 02:22am
In August, Mt. Zion Baptist Church hosted the Bowling Green Opportunity Zones Community Forum and Workshop. The event brought those who live and work in Bowling Green's Opportunity Zone together with city officials and representatives of the investment community to explore how we can benefit from the program and how we can ensure the best outcome for our neighborhoods.
The goal of the Opportunity Zone tax incentive is to bring private capital into areas previously neglected by investors. Collaboration between all stakeholders, including residents of the community, ensures the resulting investment alleviates poverty, creates jobs, and supports small and local businesses.    
Akisha Townsend Eaton, a Southern Kentucky KFTC member and legislative attorney, led the planning for this innovative workshop, which was sponsored by Mitchell Dun, a mortgage loan officer with BB&T Bank.
The first half of the workshop explored the basics of the federal program. Brent Childers, director of Neighborhood and Community Services, explained the details of the program and how the economics of our city fits into it. Ron Burkins, assistant vice president for the western Kentucky region with Community Ventures, and David Greer, financial advisor, PNC Bank Investments, discussed the nuts and bolts of how investment can be made in the community. 
The second half of the program delved into how our elected representatives can shape the way these investments are used. Community leader and local business owner, Rev. Christopher Page, city commissioners Dana Beasley Brown and Brian "Slim" Nash, and state Representative Patti Minter shared their ideas for guiding this investment in our community to benefit current residents.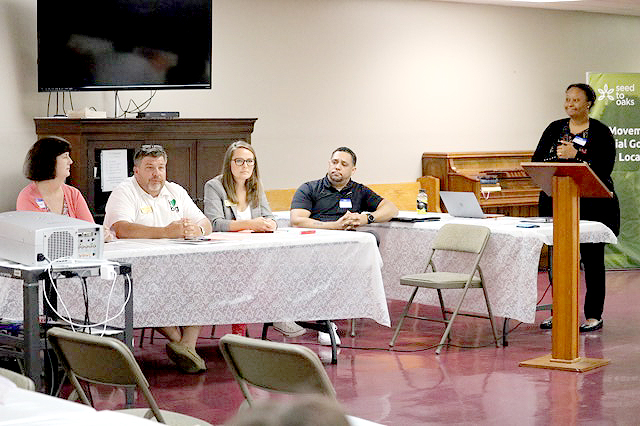 We also heard from Nathan Ivy, president and founder of Seed to Oaks, a nonprofit that facilitates partnerships between local churches, businesses and civic agencies.
Local KFTC members proudly supported this workshop by canvassing and phone-banking in the community, discussing the issues and inviting residents to the workshop. We know that development decisions should be shaped by the needs of the community and every effort needs to be made to guard against gentrification and displacement of residents. 
By connecting with residents, respecting their knowledge and valuing their input, we are able to organize based on the needs of those who are directly impacted by this tax incentive program. These relationships are the foundation of our grassroots power.
Through two phone bank opportunities and one big canvass in the Opportunity Zone with the NAACP, we learned that their top needs are affordable housing, a grocery store, upkeep of the infrastructure and better access to public transportation. We also registered voters and ensured people had the resources they need to vote.
Opportunity Zones have the potential to strengthen and grow our communities, but they are vulnerable to outside influence. It's important that our city officials take action to ensure that investment presents healthy, sustainable and equitable opportunities for residents. 
Local and state elected representatives have the power to determine how our neighborhoods grow: they can choose to hear us concerning our neighborhoods' needs or choose to disregard the voice of their constituents. This is why voting in local and state elections is so important! Support our local communities by voting on November 5.
May 16, 2021
| Lexington Herald-Leader
April 27, 2021
| The Courier-Journal
April 8, 2021
| Lexington Herald-Leader
Featured Posts
Bonifacio Aleman on September 26, 2023
Bonifacio Aleman on September 26, 2023
Bonifacio Aleman on September 26, 2023
© 2023 Kentuckians For The Commonwealth