I Love Mountains Day 2014: Marchers vote for a bright future
Posted by: KFTC Staff on February 12, 2014 at 05:45pm
Hundreds of KFTC members and friends braved the cold and warnings of winter storms to march and rally in Frankfort on our ninth annual I Love Mountains Day February 12.
Folks gathered at the Kentucky River and marched up Capitol Avenue to the familiar chants of "Show me what democracy looks like! This is what democracy looks like!" and "Whose mountains? Our mountains!"
Speakers drew parallels among communities in eastern Kentucky and other communities in Central Kentucky, Louisville, West Virginia and North Carolina that are dealing with the impacts of fossil fuels.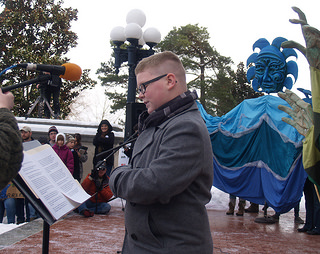 "We may live in different hollers, but we share the same story of environmental injustice," said keynote speaker Teri Blanton, a Harlan County native and longtime KFTC leader who is a member of the National Environmental Justice Advisory Council to the EPA.
"It's time for us to write a new story," Blanton said. "Let's create a new energy revolution in this state, a New Power revolution."
"It's time for us to write a new story. Let's create a new energy revolution in this state, a New Power revolution."  -Teri Blanton
Blanton called on elected leaders to:
Invest in a new economy and a just transition in eastern Kentucky.
Protect the health of people in eastern Kentucky and stop the destruction, beginning with passing the Stream Saver Bill.
Pass the Clean Energy Opportunity Act, which would establish benchmarks for renewable energy and energy efficiency and create 28,000 new jobs in Kentucky over the next ten years.
Support the EPA and other regulatory agencies charged with protecting the land and people.
Pass Senate Bill 14, which would limit the use of eminent domain in cases such as the proposed Bluegrass Hazardous Liquids Pipeline.
"We have to create the democracy that we all deserve," Blanton said.
Eleven-year-old Chase Gladson of Harlan County described how lucky he is to live in the mountains. "My dream is to grow up and raise a family right there in Harlan County, just like my grandparents did, and their grandparents before them."
But things are falling apart in eastern Kentucky, Chase said. "I know that for me to stay close to home, things will have to change."
Clean water and good jobs will have to be a part of those changes, he said. "I'm only 11 years old, but I believe all this is possible. … It will take all of us, I mean all of us, working together."
Sister Claire McGowan described the proposed Bluegrass Hazardous Liquids Pipeline, which she and others along its route have been working to prevent.
"We don't need to develop more fossil fuels at all. In fact, we can't afford to develop more fossil fuels. … The transition to renewable energy sources must begin now."
KFTC chairperson Sue Tallichet welcomed the crowd and invited everyone to take part in the day's "voting."  "As part of building a healthy democracy, we invite everyone here today to vote for a bright future."
Rather than vote for candidates, participants were asked to submit ballots expressing WHAT they'd like to vote for in Kentucky. Answers ranged from ending mountaintop removal to clean energy, affordable education for all, clean water, sustainable food systems, good jobs, economic development that empowers small businesses, and more.
Music was provided by Randy Wilson, David and Phoebe Waggoner, and singers from the Loretto, Dominican and Charity women religious communities in Kentucky's Holy Land.
Here's some news coverage of the day:
May 16, 2021
| Lexington Herald-Leader
April 27, 2021
| The Courier-Journal
April 8, 2021
| Lexington Herald-Leader
Featured Posts
Meredith Wadlington on September 22, 2020
Lisa Abbott on June 9, 2020
Caitlin Sparks on May 9, 2020
© 2022 Kentuckians For The Commonwealth