Imagining and envisioning the future of KFTC
Posted by: KFTC Staff on April 14, 2021 at 12:00am
KFTC was founded nearly forty years ago in eastern Kentucky as the Kentucky Fair Tax Coalition. Since our founding, we've grown into the statewide, multi-issue organization we are today. And as we've continued to grow, our membership has changed, our program of work has exploded, and we've outgrown many of our old strategies, structures, policies, and practices.
With this in mind, KFTC's Steering Committee voted in May 2020 to orient ourselves towards an Organizational Change Initiative. They recognized the need to honor and celebrate the achievements of KFTC, while also acknowledging a need to align our strategies and structure with where KFTC is today, and where we want to be tomorrow. The case for organizational change also stems from KFTC's commitment to work more effectively for racial justice, following Frontline Solutions' racial justice assessment and recommendations in late 2019 and early 2020. 
There are many elements of organizational change – including an Interest Based Bargaining process to negotiate a staff union contract, an Executive Leadership Transition as Burt Lauderdale exits his role as Executive Director in August, and work to center equity and racial justice inside KFTC and in our organizing. A centerpiece of this entire change initiative is a series of virtual gatherings called Imagining and Envisioning the Future of KFTC.
Designed and led by organizational change consultants Pamela Chiang and Tony Bennae Richard, the purpose of Imagining and Envisioning is twofold: 
   •  To give KFTC a shared vision of who we want to be to manifest KFTC's vision, and how we're going to get there. 
   •  To advance the personal and collective leadership skills, and our ability to show up powerfully together, as a broad and diverse set of KFTC members.
Roughly one-hundred and thirty KFTC members have opted to go through the Imagining and Envisioning process together. This group represents a broad range of KFTC's membership, reflecting diverse experiences, identities, and perspectives, and have committed to this time-intensive, yet rewarding program because of their vested interest in the future of KFTC. 
While these one-hundred and thirty people have been able to set aside the time to commit deeply to this process, there will be work to do for all KFTC members coming out of this Imagining and Envisioning process to shape the future of our organization.
Imagining and Envisioning the Future of KFTC has 5 main steps:
Orientation / Warm Up sessions (February): Small sessions of up to twenty people each, designed to prepare everyone to be able to participate in this journey
Weekend Gathering / Jam Sessions (March and April): Two weekend gatherings of up to sixty-five people each, in which we align around a shared future KFTC and experience a new way of thinking and working together. 
Synthesis and Testing: A small group of members distills ideas generated at the two Jam Sessions and tests those ideas with the broader universe of participants 
Weekend Convening / Summer Concert: All one-hundred and thirty participants come together in June to identify how we will move towards our Big Goals, individually and collectively
Implementation: Personal and system-wide change experiments in how we think, behave, and work together to get us closer to the Big Goal every day.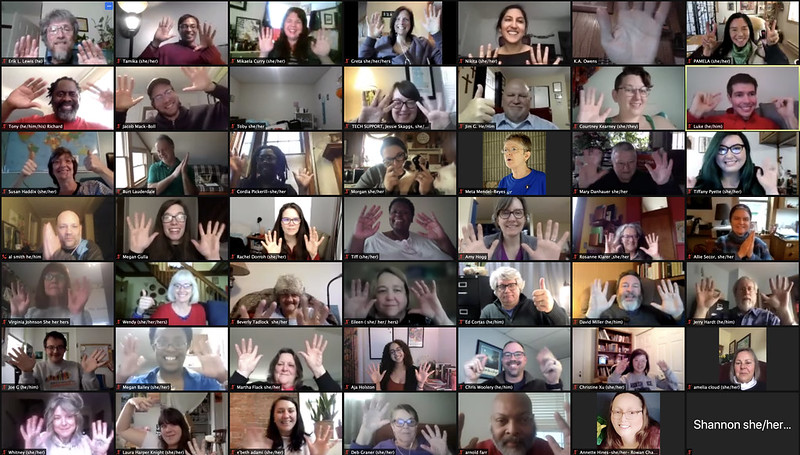 In March, Pamela and Tony facilitated the first weekend "Jam Session," event that stretched ten hours of programming designed to allow participants to deepen their connections, practice creativity, and create a shared vision for the future KFTC.
A second weekend event took place April 9-11. Members shared some reflections on what the experience was like for them:
"The Jam Session weekend was an opportunity to work in a creative, calm, and inviting environment that produced beautiful connections," says Megan Bailey of Warren County.
"After the orientation, I was a bit wary of what to expect, but thought this was an important initiative and wanted to see it through. I was thrilled with how it all came together and how such a large group was able to accomplish the work in a thorough and meaningful way," reflected Greta Elenbaas of Kenton County. 
Now that the two Jam Sessions have concluded, a small group of members from both sessions will come together to distill ideas generated at each weekend into a clear, unified description of the future of KFTC, with an accompanying Big Goal to get us there. 
May 16, 2021
| Lexington Herald-Leader
April 27, 2021
| The Courier-Journal
April 8, 2021
| Lexington Herald-Leader
Featured Posts
Meredith Wadlington on September 22, 2020
Lisa Abbott on June 9, 2020
Caitlin Sparks on May 9, 2020
© 2023 Kentuckians For The Commonwealth