Introducing Grace!
Posted by: Grace McKenzie on September 17, 2018 at 05:52pm
Hey y'all! I'm Grace Todd McKenzie. Please use she/her pronouns when referring to me. I'll be working with the Madison County and Wilderness Trace KFTC chapters from late August though late April as I complete my final practicum in my Masters of Science in Social Work. Kentuckians For The Commonwealth was my first choice for this practicum and I am so excited to start digging deeper into the work of KFTC!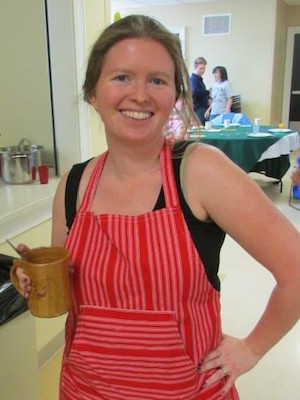 I first got involved with KFTC as a student at Berea College around the issue of Mountain Top Removal (MTR) and I soon learned about the important work of returning voter rights to former felons and general voter engagement and empowerment. I have been a KFTC member since 2012 and a sustaining member since 2014. I am proud to part of an organization that seeks to examine and address the ways it can perpetuate the racist, sexist, homophobic, transphobic patriarchy. The recent change to add pronouns to introductions seems to be one example of how we, as members of this organization, are continuing to grow in our commitment to use language and actions that are inclusive, and I am passionate about economic and tax justice from my former work with Volunteer Income Tax Assistance (VITA) in the region. VITA is a free service that supports low-income tax filers in claiming the tax credits for which they are eligible. I recognize that economic justice is one piece of the puzzle for all Kentuckians to have a better quality of life and create the beloved community in our Commonwealth. Since economic injustice is a tool to attempt to limit the power of oppressed peoples, it is vital that as a state, nation and world we work to close the wealth, income, and assets gaps that are currently only becoming wider.
I have called Berea home for over a decade, and my full-time work is with Partners for Education, an educational non-profit based out of Berea College. Partners for Education's mission is that "All Appalachian Youth Succeed at School." My favorite dish at Noodle Nirvana is Mom's House Curry and I love some avocado toast from Native Bagel. I am currently collaborating with a local artist, Heather Dent, to develop a picture book based on Michelle Tooley, former professor of Peace and Social Justice at Berea College. I am looking forward to working with you and learning from you in the upcoming months!
May 16, 2021
| Lexington Herald-Leader
April 27, 2021
| The Courier-Journal
April 8, 2021
| Lexington Herald-Leader
Featured Posts
Meredith Wadlington on September 22, 2020
Lisa Abbott on June 9, 2020
Caitlin Sparks on May 9, 2020
© 2021 Kentuckians For The Commonwealth