KFTC and Berea College team up for candidate forum
Posted by: KFTC Staff on October 31, 2014 at 09:00am
Fifteen candidates for Berea City Council gathered at Berea College on October 28 for the town's only candidate forum leading up to the November 4 election.
The Madison County KFTC chapter teamed up with the Berea College Student Government Association to host the forum, which gave voters a chance to hear from the candidates on fairness, diversity, energy efficiency, the town-gown relationship and affordable housing.
A diverse crowd of about 75 folks turned out, including community members and Berea College faculty, staff and students. The field of candidates was a mix of incumbents and challengers, including 14 candidates for City Council seats and Mayor Steve Connelly, who is seeking re-election. Only six council candidates and one mayoral candidate did not participate.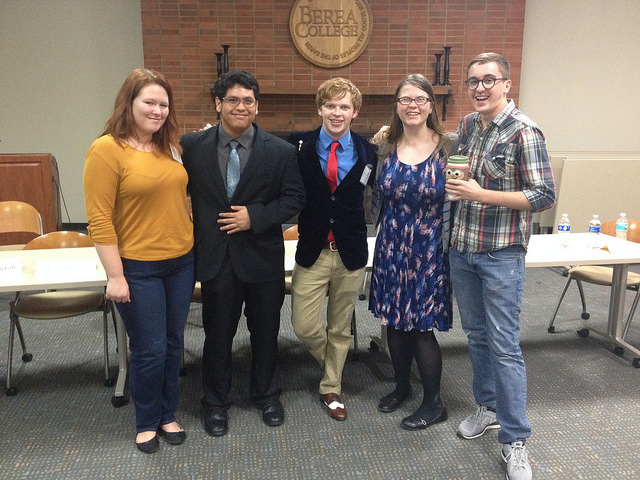 Berea College students and KFTC members Jonah Cabiles and Megan McKinney served as moderator and time-keeper, respectively.
Madison chapter members worked together to develop questions for the candidates, and Berea College SGA solicited questions from the student body. Following the structured question-and-answer portion, members of the audience got to ask questions.
KFTC member Steve Wilkins asked the candidates to weigh in on a proposal before the Berea Municipal Utilities to implement energy efficiency programs for ratepayers. Member Meta Mendel Reyes raised the issue of affordable housing in Berea. The candidates showed a range of interest and knowledge of these issues, but many agreed that both issues were important and should be addressed by the City Council.
After the two-hour forum, many people stayed to chat with the candidates.
In response to a recent ad in the local newspaper questioning students' eligibility to vote, KFTC distributed a handout on student voting rights, as well as the KFTC voter guide.
Berea College students live-streamed the event, and more than 35 people watched from home. Students also recorded the event and plan to develop a highlights video to share with students before election day.
The Future Business Leaders of America club from Berea Community High School also helped with refreshments, microphones and photography.
May 16, 2021
| Lexington Herald-Leader
April 27, 2021
| The Courier-Journal
April 8, 2021
| Lexington Herald-Leader
Featured Posts
Meredith Wadlington on September 22, 2020
Lisa Abbott on June 9, 2020
Caitlin Sparks on May 9, 2020
© 2021 Kentuckians For The Commonwealth