KFTC Live: conversations among members working on the front lines
Posted by: KFTC Staff on August 10, 2020 at 01:26pm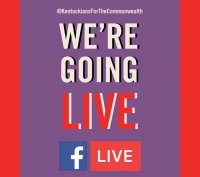 NEXT EPISODE: Tuesday, July 17, 2021 – 1 p.m. ET. TOPIC: Participatory Budgeting.
In fall 2019, KFTC started to explore the idea of a member-driven podcast series. Each episode would center women/Trans/ Femme and voices of color and would be integrated with organizing and the work of KFTC members. 
These stories would lift up what's happening in Kentucky, uncover our part in larger national stories, and help audiences imagine an equitable future and what's possible when we organize. 
From the beginning we imagined each episode would be led by a host convening a group of people to have these discussions and allowing space for the audience to get involved. 
Since March we've leaned into this difficult moment and pivoted where we could. We turned to technology that would allow us to work safely from home, and the podcast became a live video broadcast. 
Using Zoom to broadcast live on Facebook, KFTC LIVE debuted on June 10, 2020, featuring co-hosts Cassia Herron, Shirlisa Arnold and sometimes others.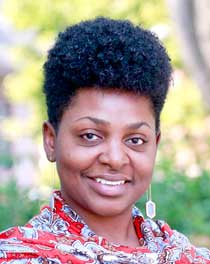 Cassia Herron
Shirlisa Arnold
Once a month on select Wednesdays at 1 p.m. eastern time, Herron and Arnold talk with an invited panel of Kentuckians about timely news and grassroots organizing across the state. Each episode has been enriched with music, centering meditations, and questions for the audience to consider and respond to.
In addition to Herron and Arnold, the first episode included guests Donovan Taylor and Lisa Garrison, all collectively representing voices from Louisville, Bowling Green, Corbin and Jenkins. The group discussed how their communities were showing up for the Black Lives Matter movement, highlighting that our statewide response to racial injustice was emboldened by decades of visionary grassroots organizing.
The second episode aired on July 1 featuring LaToya Drake, Joy Girgis and Heather Kinney. Guiding questions included: "What would life be like if more people voted? What work did you do in this election that you are proud of?" 
The group discussed the creative and courageous ways Kentuckians showed up in response to an inspiring candidate and growing movement. And they invited folks to take action for voting rights. 
The third episode featured guests who recently had their voting rights restored because of Gov. Beshear's executive order, and learn about how you can get involved with the Kentucky Voting Rights Coalition.
Check on KFTC's Facebook page for our episode schedule and to watch recordings of the first three episodes. Each episode is about an hour long.
Contact Caitlin Sparks at [email protected] if you have feedback or an idea for the broadcast.
May 16, 2021
| Lexington Herald-Leader
April 27, 2021
| The Courier-Journal
April 8, 2021
| Lexington Herald-Leader
Featured Posts
Meredith Wadlington on September 22, 2020
Lisa Abbott on June 9, 2020
Caitlin Sparks on May 9, 2020
© 2023 Kentuckians For The Commonwealth