KFTC members attend Families Belong Together Rally!
Posted by: Joe Gallenstein on June 15, 2018 at 03:44pm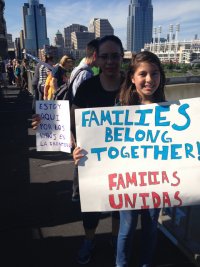 The Northern Kentucky chapter of KFTC joined Northern Kentucky Justice and Peace Committee, Intercommunity Justice and Peace Center, Northern Kentucky Indivisible and Together We Will - Cincinnati for a rally on the Roebling Bridge on June 14 to protest the Trump administration's policy of separating families.
The event, which was scheduled to be a part of events taking place nationwide, gained more attention closer to the action locally based on news reports of a plan to build 'tent cities' to house children (both unaccompanied minors and those separated from their families by the Department of Homeland Security) and the conditions inside of other holding facilities. Those in attendance chanted slogans offering support for families directly and indirectly impacted by the new heinous policy.
Many in attendance came out to support friends and neighbors, and had been out at previous actions related to the need for immigrant rights. If you're looking to plug into work around immigrant rights in northern Kentucky, please visit the Immigrant Dignity Coalition, or contact the Northern Kentucky KFTC organizer about other ongoing work.
May 16, 2021
| Lexington Herald-Leader
April 27, 2021
| The Courier-Journal
April 8, 2021
| Lexington Herald-Leader
Featured Posts
Meredith Wadlington on September 22, 2020
Lisa Abbott on June 9, 2020
Caitlin Sparks on May 9, 2020
© 2021 Kentuckians For The Commonwealth