Lamar Keys, former KFTC chair and leader, passes away
Posted by: KFTC staff on May 16, 2015 at 09:51am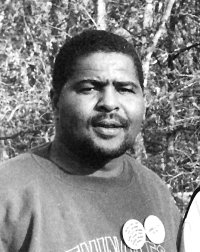 Lamar Keys, KFTC's chairperson from 2000 to 2002, passed away earlier this week after a bout with cancer. He was only 61 and is survived by Darlene, his wife, and two grown children.
At the time, Lamar represented a growing KFTC presence in western Kentucky. He was a leader in the newly formed Union County chapter, and an active church and civic leader in Morganfield.
"He was one of our champions – in KFTC and at church, too," remembered Pat Pendleton, also a KFTC chapter leader. "He did quite a bit here in Union County, and brought a lot of youth into KFTC."
Pendleton remembered many occasions when she, Lamar and other KFTC members from western Kentucky would travel "across the state and out of state" for KFTC events, lobbying in Frankfort and exchanges with ally groups in other states. "He would always do the driving," she recalled. "Nashville, North Carolina, Mississippi and across the state of Kentucky."
With KFTC support, the Union County chapter defeated plans by a Canadian company to build a PCB recycling plant in predominantly African American neighborhood in Morganfield. Residents had not been told anything about the plant.
"The biggest thing was keeping that plant out of Union County," said Pendleton. "We went to the fiscal court and they were all for it and didn't pay us any attention."
Keys and chapter members focused on winning the support of state officials. "We defeated them by going to Frankfort to the hazardous waste division and getting a permit that they had filed and proving that their permit was not true," Keys recalled in an interview in 2011.
"A little group of people turned away this large corporation. The county was doing everything for the company until the community found out what it was," said Teri Blanton, who led a delegation of KFTC members to support the Union County efforts. "Educating the community made all the difference."
Blanton, who succeeded Keys as KFTC chairperson, remembered Lamar's leadership style and presence. "He was such a good guy; he was good inside and out. I saw Lamar as a blessing to the youth. He brought calm and serenity and love wherever he was at. He was a great leader. It was always a pleasure to work with him."
After the PCB plant victory, Lamar focused on opening a youth center in Morganfield and later worked for the Union County public schools.
"KFTC has taught me a lot. They broadened my way of thinking and the way I see things over the past years," Lamar said in the 2011 interview. "Some of the things that we worked on, like dismantling racism, it was helpful. Sometimes our government plays that race card against certain people to keep them apart and as long as we are fighting each other we can't stand together.
"Being the chairperson opened up a lot of doors and opportunities for me. We accomplished a whole lot because I knew that I had a team behind me that would back me up. It was a good experience."
Funeral services will be 1 p.m. on Tuesday (May 19) at Carr's Chapel Missionary Baptist Church in Morganfield. Visitation will be 5-8 p.m. Monday and 11 a.m. – 1 p.m. Tuesday at the church. His obituary and online condolences can be found HERE.
May 16, 2021
| Lexington Herald-Leader
April 27, 2021
| The Courier-Journal
April 8, 2021
| Lexington Herald-Leader
Featured Posts
Meredith Wadlington on September 22, 2020
Lisa Abbott on June 9, 2020
Caitlin Sparks on May 9, 2020
© 2023 Kentuckians For The Commonwealth