With leadership from Black faith leaders and others, Lexington bans no-knock warrants
Posted by: KFTC Staff on July 19, 2021 at 12:00am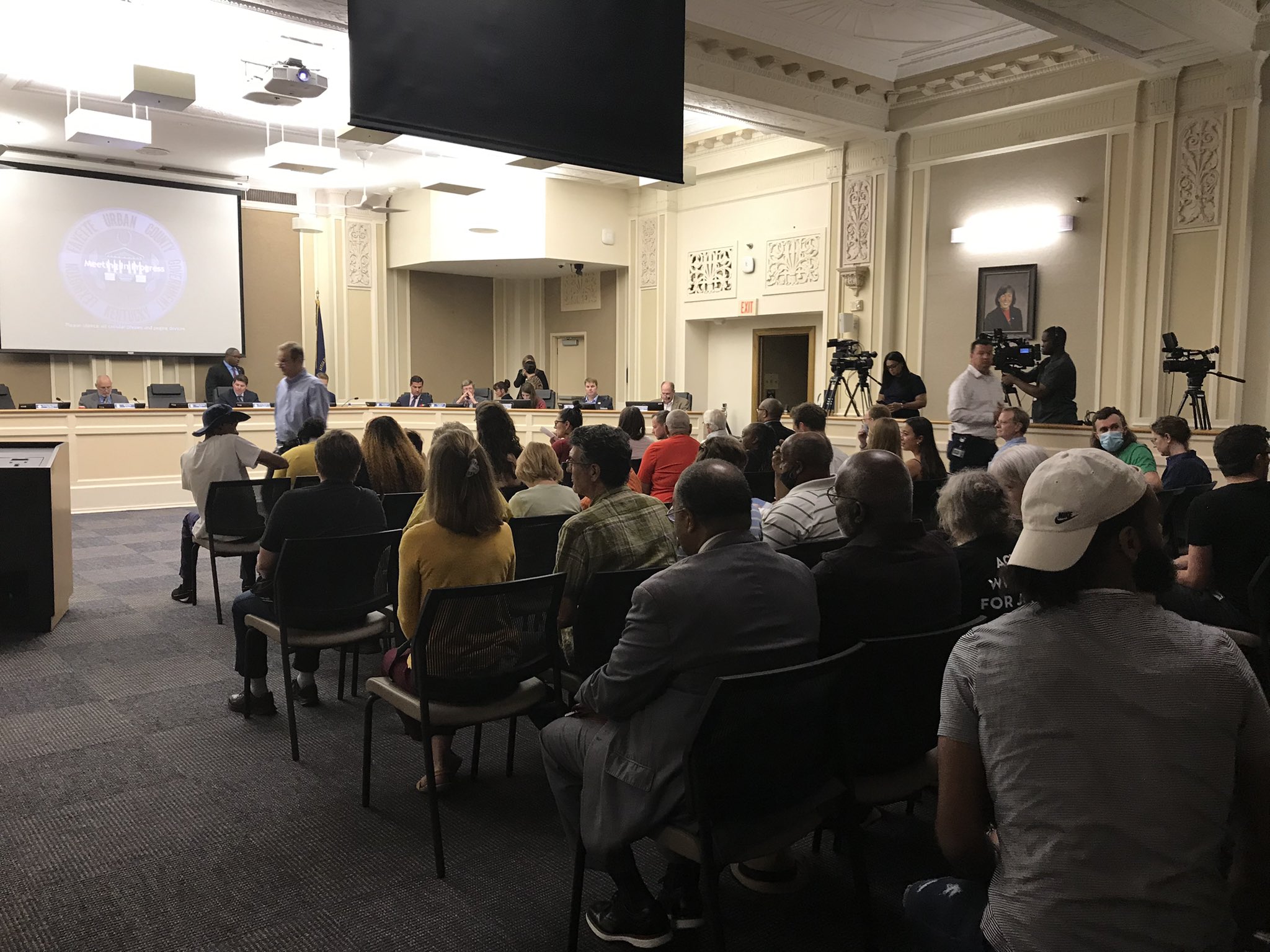 After more than a year of demands from residents, the Lexington-Fayette Urban County Council passed an ordinance that bans the use of no-knock warrants with a 10-5 vote.  There was a packed house for the council's discussion. 35 people made comments in support of the ban and none made comments in opposition.
Black faith leaders in and around Lexington are at the forefront of the coalition that got their demands and stories heard by tens of thousands of Lexington residents. They held vigils and press conferences. They talked with the mayor and other city leaders and organized their congregations. 
Pastor Moore of First African Baptist Church was among these leaders and testified before the final vote on the ordinance, "Your preceding tonight will let the Black community know where each of you stand on racial justice and equality." 
Organizers at LPD Accountability, led by April Taylor, have also been pushing for a ban on no-knock warrants, the creation of a citizen-police liaison position, and expanded access to body camera footage. LPD Accountability collected petition signatures, offered talking points, spoke with the media, and organized public comments for the city council meetings.
LexStand For Breonna's Law, a collective of community activists,  that formed to amplify and support demands for the ordinance plans to host a virtual town hall meeting on August 9 at 6:30 pm ET..  Keep an eye on KFTC's Facebook to learn about future LexStand virtual events.
The ordinance to ban no-knock warrants was introduced by Councilmember James Brown in May and passed out of committee. Opponents of the ban, namely the Fraternal Order of Police, worked to block it's momentum through multiple discussions and two more votes. But the overwhelming call from Lexington's Black community and other residents to stop the dangerous tactic – and to feel safe in their homes – was heard and respected by enough council members for the ordinance to pass on June 24 and be signed into law the next day.
Councilmember Liz Sheehan spoke in favor of the ban, "We voted to honor Juneteenth. We passed a diversity and equity statement. Those were easy. This is your moment to show that you are willing to do the hard things, not just the easy things." 
We would like to thank and honor all of the leaders, members, and coalition partners who helped win this important policy change and step toward true public safety: Pastor E, Arnold Farr, Adriel Downing, Jessica Clark, Mike Wilson, Pastor Acres, Pastor Rutherford, Pastor Robinson, Pastor Owens, Rev. Williams, Rep. Scott and many, many others. 
There is still much to do to win a future where we are all free, safe, and thriving. Let's celebrate this win and get back to organizing!
May 16, 2021
| Lexington Herald-Leader
April 27, 2021
| The Courier-Journal
April 8, 2021
| Lexington Herald-Leader
Featured Posts
Bonifacio Aleman on September 26, 2023
Bonifacio Aleman on September 26, 2023
Bonifacio Aleman on September 26, 2023
© 2023 Kentuckians For The Commonwealth