Let's recommit to show up for each other, organize, vote and take action to defend our democracy
Posted by: KFTC Executive Committee on September 21, 2020 at 10:35am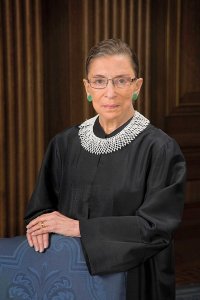 Dear KFTC Members and friends,
On Friday night, we were graced by the wisdom of a dynamic panel of grassroots leaders building progressive power in the South. The conversation was the kick-off event of KFTC's virtual annual meeting. You'll want to watch the video of inspiring leaders who are building powerful multi-racial movements for justice in Kentucky, Georgia, Virginia, and across the South.
There was a poignant moment during the conversation when Nsé Ufot, director of the New Georgia Project, shared the news that Supreme Court Justice Ruth Bader Ginsburg had, on the Jewish holy day of Rosh Hashanah, become an ancestor. An impromptu moment of silence was called by KFTC chairperson Cassia Herron, as she breathed out, "Lord, bless our democracy." Together, we took the first of many moments to grieve and sit with the enormous implications for our nation's future.
Justice Ginsburg was a small yet mighty giant. She built her career as an architect of legal strategies to move closer to equality for women by methodically chipping away at barriers that kept women from full access to employment, education, military service, property rights, and civil rights. Her efforts ultimately led to the establishment of gender equality under the US Constitution. Ginsburg was appointed to the US Court of Appeals in 1980, and later to the United States Supreme Court, where she served for 27 years. Throughout her service, she was a formidable defender of gender equality, reproductive freedom, and voting rights, and she dissented fiercely and often as the Court shifted right.
Within an hour of the news of her passing, Sen. Mitch McConnell swept aside public and private needs to grieve and honor her legacy by announcing his intention to hold a vote to confirm President Trump's nominee, despite the fact that voting has already begun in Kentucky and many states. As Kentuckians, we know the hypocrisy and corrupt dishonesty of McConnell's actions. As Americans, we understand the epic political battle that will now be waged over who will appoint and confirm her successor.  
This is no time for despair. This is the time to recommit to show up for each other, organize, vote and take nonviolent action to defend our democracy. 
Even before the passing of Justice Ginsburg, this fall's election was already the most consequential in generations. Fundamental human rights, health care, and the survival of democracy are on the ballot. Over the next 43 days, American voters will determine whether progress is possible in managing the pandemic, expanding health care, advancing racial justice, protecting our climate, holding corrupt leaders accountable, and preserving our democracy itself. 
Given the stakes, we need your help to do everything in our power to register new voters and support every caring Kentuckian to cast an early, safe, and informed vote. 
As we lean into the essential work of voter engagement, we are mindful that nothing is normal or okay about this election. As Nsé Ufot said on Friday night, "Your eyes are not deceiving you: They are directly attacking the US Postal Service. This is happening." Likewise, our ears are not deceiving us: President Trump and his surrogates are repeatedly and publicly signaling they are preparing to steal this election, which polls suggest they are unlikely to win. And now Mitch McConnell is rushing to install a Trump appointee to the Supreme Court, just weeks before a national election in which public support for Trump and the GOP Senate majority is lagging.
Those realities are unsettling, almost unspeakable. But a stolen election, like a stolen Supreme Court seat, is not impossible. It's merely unimaginable. Together we must prepare to protect each other through this election and beyond, and to resist unimaginable outcomes. We can reflect on the words of Kentucky author bell hooks, "The heart of justice is truth telling, seeing ourselves and the world the way it is rather than the way we want it to be."
One important event will take place this afternoon, Monday, September 21, at 3:30 pm ET / 2:30 pm CT. Join the Kentucky Poor People's Campaign and many KFTC members for a car caravan protest outside all six of Mitch McConnell's offices in Kentucky and in DC. 
As Nsé Ufot challenged us on Friday night's call, "I think we are under-prepared to deal with white supremacist violence and armed opposition at the polls...We are also not prepared for massive direct attacks (on our election)...They are taking a sledgehammer to our democratic infrastructure...We are going to have to have an overwhelming turnout and overwhelming response so that we can ensure that the will of the people is reflected in the outcomes of this election."
Kentuckians For The Commonwealth calls on all of our members and allies to make commitments and take important, intentional actions before, during, and after this election:
Vote. Make a plan to vote early and safely. Go to GoVoteKY.com to check your registration, update your address, or register for the first time. (The deadline to register is Oct 5.) At GoVoteKY.com, you can also request a mail-in ballot. (The deadline to request is Oct 9.) If you've already requested a ballot, you should receive it soon. County clerks began printing and mailing them last week. Mail-in ballots may be dropped off at your county clerk's office or postmarked by Nov 3. If you prefer to vote in-person, all Kentuckians may vote early at your county clerk's office beginning Oct 13, including on at least 3 Saturdays. Kentuckians may also vote in person on election day, Tuesday, Nov 3, from 6 am to 6 pm at designated locations in each county. However you choose to vote, research candidates at KentuckyElection.org.
Organize your people to vote. Make sure your family, friends, neighbors, and network have a plan to vote early and safely. Share the information above with everyone you know. Ask them about their plan to vote. KFTC is using a relational organizing app to help you share timely information about voting with people in your network. To get started, go to GetEmpower.Com/kftc on your phone to download the app and set up an account. Contact [email protected] if you need assistance.
Volunteer with KFTC to register, inform, and support voters in Kentucky. Sign up now at kftc.org/meetonline for phone-banking, tabling, neighborhood lit-drops, and other ways to volunteer safely during the pandemic. You can also register there for a volunteer Jumpstart Call, offered Tuesday at 7 pm ET / 6 pm CT, to learn more about volunteering.
Speak out: Now is the time to use every platform we have to encourage voting as one important step to protect our democracy. Many people are struggling to see voting as an important tool, or feel too much ground has already been lost to the chaos created by the federal administration. There's no one message or method that works for these conversations. But repeated messages about the importance of voting as one tool for us to show our support for each other from trusted messengers are essential. Remember, those of us who want to protect each other are in the majority. Get creative in using social media, letters, postcards, texts, banners, sidewalk art, yard signs, vehicle signs and more.
Organize and join non-violent direct actions in your community: Throughout 2020, many Kentuckians, and especially many Black women, have sustained creative, strategic, and courageous non-violent actions to demand racial justice. Daily vigils and marches have provided space to express anguish, rage, love, and solidarity with the Movement for Black Lives, and have kept up pressure on public officials to charge the police who killed Breonna Taylor. Public actions may intensify this week, as an announcement is expected from Kentucky Attorney General Daniel Cameron. We urge everyone to stay safe and to treat each other with care in the days ahead. 
As events continue to unfold with respect to justice for Breonna Taylor and the vacancy on the US Supreme Court, KFTC encourages our members to support powerful social movements by leading and joining local nonviolent actions, including car caravans, vigils, online forums, and other forms of public protest. Keep KFTC informed of upcoming actions by sharing details to [email protected] so we can spread the word.
We are Kentuckians. We choose each other. Together we choose to do everything in our power to exercise and protect our democratic and human rights.
May 16, 2021
| Lexington Herald-Leader
April 27, 2021
| The Courier-Journal
April 8, 2021
| Lexington Herald-Leader
Featured Posts
Meredith Wadlington on September 22, 2020
Lisa Abbott on June 9, 2020
Caitlin Sparks on May 9, 2020
© 2023 Kentuckians For The Commonwealth