Love the Lake: Wilderness Trace chapter members celebrate Herrington Lake
Posted by: Shannon Scott on September 18, 2019 at 06:21am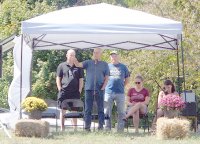 The Wilderness Trace KFTC Chapter hosted a celebration of Herrington Lake on September 14. Community members ate hot dogs and learned about a variety of community resources for protecting the water quality of Herrington Lake while listening to Conrad Shiba and Joel Klepac play Bluegrass music. Electricity for the celebration was provided by Wilderness Trace Solar.
Door prizes included an original painting by David Farmer (won by the Werner family), a gift certificate from Old Bridge Golf Course and restaurant (won by Joe Myers), an "On Lake Time" wooden sign (won by Bob Silvers), and a rain barrel donated by Barbara Farley of Danville (won by Margaret Gardiner).
"As residents who recreate on the lake and drink its water, we are concerned about the threats to the lake, mostly caused by humans. We have asked those dealing with these issues to speak about how the public can be better stewards of this wonderful resource," explained Julie Pease, one of the event organizers.
The lake is the drinking water source for Boyle, Garrard and Lincoln counties.
Representatives from KFTC, Clark's Run Environmental and Educational Corp., the Kentucky Resources Council, the Kentucky Waterways Alliance, the Boyle County Health Department, the University of Kentucky Water Resources Institute and the Danville Water Treatment Plant provided resources and answered questions about their programs that help keep the source of our drinking water safe. Bonner Scholars from Centre College provided help with the celebration.
The Wilderness Trace Chapter serves members in Boyle, Garrard, Lincoln, Mercer and surrounding counties.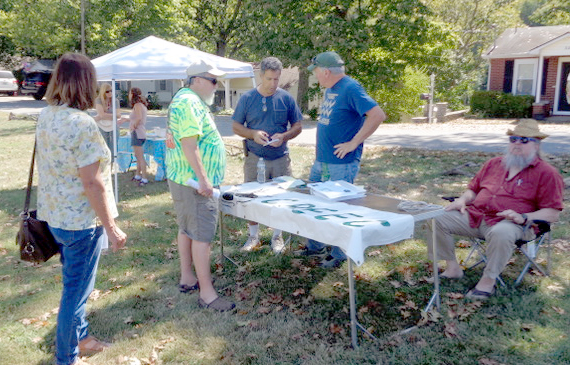 May 16, 2021
| Lexington Herald-Leader
April 27, 2021
| The Courier-Journal
April 8, 2021
| Lexington Herald-Leader
Featured Posts
Meredith Wadlington on September 22, 2020
Lisa Abbott on June 9, 2020
Caitlin Sparks on May 9, 2020
© 2022 Kentuckians For The Commonwealth