Madison chapter celebrates 10 years of grassroots work
Posted by: KFTC Staff on October 30, 2014 at 01:46am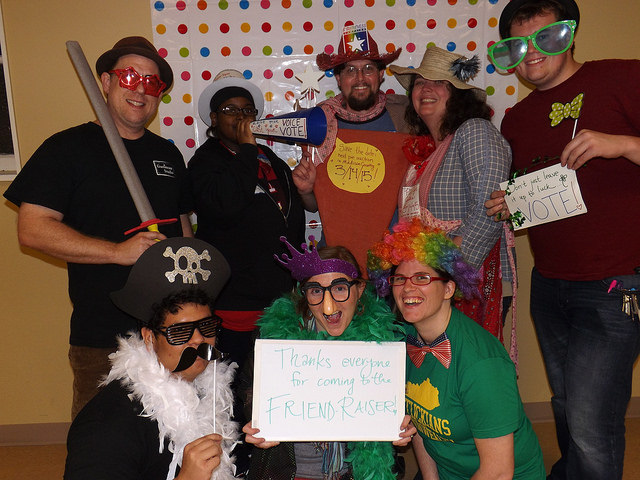 Madison County KFTC members gathered in Berea on October 25 to celebrate the chapter's 10th birthday, share a potluck, enjoy live music and take silly photos.
The annual Friendraiser was a chance to not only reflect on the past year's work but also celebrate the good work of the chapter's first 10 years.
Sasha Zaring, who joined KFTC last summer and quickly became active in the chapter, shared her story of finding a way to give back to her community by being involved in KFTC.
"My first meeting was this past June at our annual chapter meeting. The atmosphere of the room was exactly what I had been looking for, and I was thrilled by how warm and welcoming all those at the meeting were to me, a newcomer. I had found my people, and my people were good!" Zaring said.
"Over the next few months KFTC provided me a way to interact with my community in a meaningful way that allowed me to not only meet like-minded people but also find ways to integrate my family into long-standing traditions and events. All while knowing that I wasn't just a 'taker' but that I could help do my part to improve and help."
As a temporary voter empowerment organizer with KFTC this fall, Zaring has learned about KFTC's work to build a healthy democracy.
"Restoring voting rights to former Felons was honestly not something I ever thought I would care about and in truth wasn't even sure how I viewed the issue," she said. "And then I met former felons working hard to guarantee that they and others are treated as humans and not statistics. Seeing the human face of an issue can change you."
KFTC member and Berea College student Jonah Cabiles emceed the event, and members David and Lisa Shroyer shared about KFTC's work over the last three years to pass a fairness ordinance in Berea.
Participants enjoyed a potluck dinner anchored by pulled-pork barbecue from Sonny's Barbecue in Richmond, as well as homemade birthday cake in honor of the chapter's 10 years of grassroots work. Between eating and listening to music by Tyler Childers and Senora Lainhart, participants could dress up and pose for silly photos or write down issues they care about and post them on the "vision board."
They also bid on a wide variety of items in the silent auction. Members, local artists and businesses donated pottery, paintings, restaurant and yoga certificates, books, jewelry and more.
Berea College students volunteered to staff the photo booth, silent auction and welcome table. A few candidates for local office dropped in to chat with members.
Through the auction, new memberships and membership renewals, the event raised nearly $900.
The Madison County chapter's next big event is the annual pie auction on Pi Day – March 14, 2015.
May 16, 2021
| Lexington Herald-Leader
April 27, 2021
| The Courier-Journal
April 8, 2021
| Lexington Herald-Leader
Featured Posts
Meredith Wadlington on September 22, 2020
Lisa Abbott on June 9, 2020
Caitlin Sparks on May 9, 2020
© 2023 Kentuckians For The Commonwealth