Members join climate strikes across the commonwealth
Posted by: KFTC Staff on October 2, 2019 at 01:22pm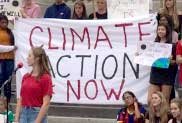 Louisville
As we stood under the blazing sun in Jefferson Square Park with our signs and petitions, Greta Thurnburg was delivering this quote to the United Nations, "You must unite behind the science. You must take action. You must do the impossible. Because giving up can never ever be an option." 
At the Louisville Climate Strike, attendees were ready to unite and take action. KFTC Chairperson Cassia Herron spoke of the importance of voting and fighting against political bullying. Generations young and old clapped and hollered in solidarity. 
We knew that giving up on the planet and our future is not an option.
 — Dahlton Lang, Jefferson County
Prestonsburg
Members of the Big Sandy chapter organized a local Climate Strike event on September 20 where a group of about two dozen folks gathered at the downtown Prestonsburg park to be in solidarity with people from across the world to protest government and business inaction on climate change.
"Climate change is happening ... We only have one planet and there's only one chance to fix it," the group was told.
An Eastern Band Cherokee woman led the attendees in an Algonquin water song to connect to the water and to express gratitude for it:
Nee bee wah bow 
En die en
Aah key mis kquee
Nee bee wah bow
Hey ya hey ya hey ya hey
Hey ya hey ya hey ya ho 
Which translates to:
Water is the lifeblood of the earth
Water is the lifeblood of our bodies
The chapter also hosted a follow-up conversation about climate change at St. James Episcopal Church the following week. 
Frankfort
"We need to pay attention to our future, our children's future. What kind of future do we want them to have? I know the answer. I want a world that is sustainable, diverse, safe, and beautiful." 
— Natalie Dufour, sophomore at Franklin County High School and Frankfort Climate Strike organizer
Bowling Green
More than 100 participants gathered on the Western Kentucky University campus on September 26. The strikers were WKU students and community members alike. Students, activists, and professors gave speeches throughout the duration of the event to highlight the impacts of climate change on our community and in our world. Despite the rain that fell throughout most of the event, dozens of people stayed for the whole three hours. It was incredibly inspiring to see the community's passion and dedication.
Cincinnati
"As much as humanity believes the ideology that we are invincible, that is obviously not the case. We have met our match, in fact our greatest horror, that will easily destroy us all if we do not act now. The Youth is sharing this message with the rest of the world, as demonstrated during the Global Climate Strike. 
"Today gave me hope, as I witnessed the rise of youth power, and the undying passion that follows around the world. Often it is easy to feel isolated in environmental justice work because of the overwhelming amount of destruction swarming through the news about that forest on fire and that regulation being rolled back etc. 
"But on September 20 I got to see the other side, the part that fuels your fire and reminds you this fight is not over, only getting stronger. 
"We have entered a time period where more rules are broken than being followed by the people we are supposed to call leaders. It is time for us to act the same but in the name of justice. We have tried asking nicely, we have tried to make our voices heard – but the truth of the matter is they won't listen until they feel threatened, which is the road we are headed down.  Walking out of school and work is only the beginning of rebellion the youth is willing to take to secure a future of this Earth. 
"The universal message of these climate strikes is we have a moral responsibility to act now for the sake of our future. Granted this crisis we find ourselves in IS NOT our fault, it is more than obvious the ones with blame on their shoulders could care less. 
"We can continue to let our differences divide us, and allow their manipulation to succeed, or we can create an endless ray of power by walking forth together on this issue. Without each other, we have no power. Without us, THEY have no power. 
We stand
For our water, For clean air
We stand
For our brothers, For our sisters
We stand
For all people, Of all nations
We stand
 "We cannot win this battle in one day. It will take us showing up, working together, and making our voices heard every day after the next. But we can do it, and we will do it. 
"We are more than Kentuckians, we are sisters and brothers, mothers and fathers, and together we can change this world because we choose each other."
­— Maria Truitt, Northern Kentucky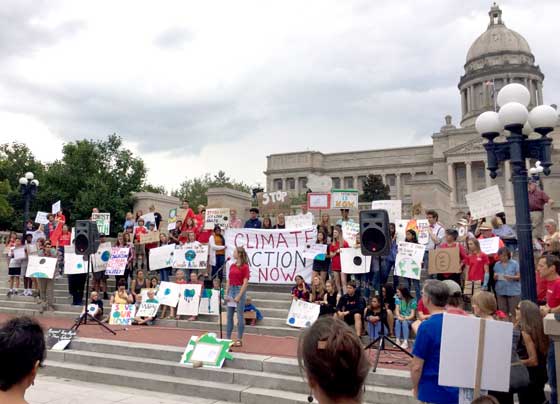 May 16, 2021
| Lexington Herald-Leader
April 27, 2021
| The Courier-Journal
April 8, 2021
| Lexington Herald-Leader
Featured Posts
Meredith Wadlington on September 22, 2020
Lisa Abbott on June 9, 2020
Caitlin Sparks on May 9, 2020
© 2022 Kentuckians For The Commonwealth