National Voter Registration Day
Posted by: Enchanta Jackson on September 24, 2014 at 11:57am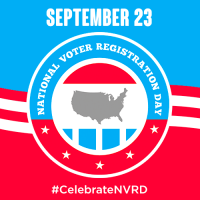 With the voter registration deadline being only 11 days away, KFTC is vigorously registering voters across Kentucky. On Tuesday, September 23rd we participated in the National Voter Registration Day and hosted 16 voter registration drives across Kentucky!
We registered 137 voters & had 149 conversations w/people who committed to
standing with KFTC on our issues!!
Click here to view more KFTC National Voter Registration Day highlights!
(Michelle Calloway, Kentucky State University Student)
Tuesday, Voter Empowerment Organizers hosted voter registration events from Bowling Green to Whitesburg to Covington. Event venues ranged from coffee shops to libraries to campuses. The sun was shining and it was beautiful day to register voters. Registering voters is vital when building a New Power, healthy democracy in Kentucky. As we registered new voters, we also had engaging conversations with them to discover what issues they care about and see if they stand with KFTC on our platform issues including:  
Energy, Health & Environment

Fairness & Equality

Healthy Democracy

Sustainable & Just Economy
KFTC's voter registration efforts will continue until the the voter registration deadline on October 6th. It's a pretty big year for KFTC's Voter Empowerment efforts and we could really use your help! If you are interested in participating in this exciting Voter Empowerment Movement to build New Power in Kentucky please contact your local chapter organizer to learn how to get involved.

Click here to view more KFTC National Voter Registration Day highlights!

           (L-R: Andrea McCallister, KFTC volunteer & BCTC student,
Stacie Catlett, KFTC Voter Empowerment Organizer, and Kirby Roberts)  
May 16, 2021
| Lexington Herald-Leader
April 27, 2021
| The Courier-Journal
April 8, 2021
| Lexington Herald-Leader
Featured Posts
Meredith Wadlington on September 22, 2020
Lisa Abbott on June 9, 2020
Caitlin Sparks on May 9, 2020
© 2023 Kentuckians For The Commonwealth