New Western Kentucky chapter welcomed into KFTC
Posted by: KFTC staff on March 26, 2017 at 02:49am
KFTC Steering Committee members enthusiastically welcomed representatives from western Kentucky to their March 25 meeting and approved a petition to form a new Western Kentucky KFTC chapter.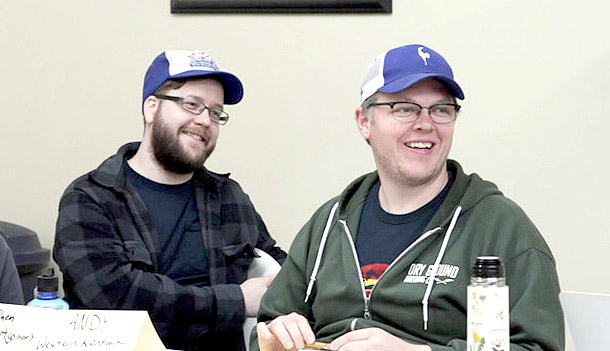 Andy Wiggins of Paducah and Stephen Montgomery of Murray were in attendance to submit the petition on behalf of dozens of residents in those areas who have begun regular meetings and actions.
While responding to questions from Steering Committee members, Wiggins discussed the emerging political energy in western Kentucky. He noted that in response to recent developments locally, statewide and nationally, there are numerous folks in the area energized to work for change. Montgomery was instrumental in mobilizing local energy to form the new KFTC chapter.
Members in several far western Kentucky counties have been participating, with activities so far centered in Paducah and Murray.
Western Kentucky community members worked in February to hold a sister rally in solidarity with KFTC's Stand 4 Kentucky Rally at the state capitol (see related story below). Local organizers wanted to build on the momentum displayed by Stand 4 Kentucky and demonstrate that there are people in the region who have a vision for a path forward for their local community and state.
As Wiggins submitted the group's chapter petition, he highlighted that the western Kentucky group had met all of the requirements for forming a new chapter, including membership and fundraising goals. He also noted that the group has appointed a regionally representative subcommittee of members to their structure.
Meta Mendel-Reyes of Madison County moved to accept the Western Kentucky chapter petition. The motion passed unanimously to cheers from those in attendance.
Wiggins thanked committee members for accepting the Western Kentucky chapter petition and reiterated the chapter's commitment to KFTC's vision.
May 16, 2021
| Lexington Herald-Leader
April 27, 2021
| The Courier-Journal
April 8, 2021
| Lexington Herald-Leader
Featured Posts
Meredith Wadlington on September 22, 2020
Lisa Abbott on June 9, 2020
Caitlin Sparks on May 9, 2020
© 2023 Kentuckians For The Commonwealth