NKY chapter hosts DACA and immigrant rights discussion
Posted by: Joe Gallenstein on March 28, 2020 at 02:04pm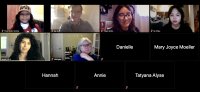 On March 26, the Northern Kentucky chapter cohosted a zoom video conversation about immigration rights. The call focused on the status of the DACA (Deferred Action for Child Arrivals) program, the challenges facing the local immigrant community and how that fits into the unique moment we are in dealing with the Covid-19 pandemic.
Member Serena Owen helped lead the event, co-facilitating the call with local immigrant activist Heyra Avila. Heyra has been active in this work since she was in middle school. She was born in Vera Cruz, Mexico and grew up in Boone County. Since she was 13 years old she has helped organize her community to fight for comprehensive immigration reform. More than this, she has fought for protections for every Kentuckian – regardless of immigration status.
The discussion focused on the moment we are in. From proposed anti-immigration legislation and the Covid-19 pandemic, it has meant that she is the main income source for her family. Making things more difficult, undocumented members of the community, including members of her family, are not eligible for unemployment benefits. Nor will they receive any benefits from the federal relief bill.
Her ability to provide would change if the Supreme Court overturns the DACA program. This could happen in June, when they hear the challenge from President Trump. This would remove the work authorization that Heyra and others use to work in our community. The program itself has been around since 2012, and assists undocumented Americans who moved here as children.
If the court ends the program, only recipients who are current would remain. The process of renewal, which is done every two years, currently costs $495. If it is invalidated, it would push many people back into the shadows.
As a result, many people are seeking to renew their application earlier. Even if DACA recipients win their case, the Trump administration is increasing the costs of renewal by 55 percent. That means future renewals would be $765. Those who may become eligible for naturalization are set to see a steeper increase. The set increase will be 83 percent, making naturalization cost $1,170. As a result, it is vital that those who can reapply do so as soon as possible.
This event also served as a fundraiser for Heyra. The community's recognition of her tireless work allowed her to raise enough money to cover her renewal application!
May 16, 2021
| Lexington Herald-Leader
April 27, 2021
| The Courier-Journal
April 8, 2021
| Lexington Herald-Leader
Featured Posts
Bonifacio Aleman on September 26, 2023
Bonifacio Aleman on September 26, 2023
Bonifacio Aleman on September 26, 2023
© 2023 Kentuckians For The Commonwealth