NKY Loves Democracy preview
Posted by: Joe Gallenstein on August 20, 2019 at 09:20am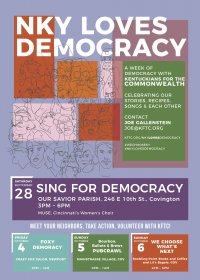 Members of Kentuckians For The Commonwealth love democracy. That's why we spend so much time fighting for voting rights, fair representation, registering voters, working on our voter guide, and doing all we can to make sure that every voice is heard and respected in our democracy!
To capture that energy, and to bring attention to the work, Northern Kentucky is planning a over a week's worth of events aimed at registering voters, lifting up the voices of those left out, and getting the community to think about both the voter registration deadline, as well as what is next!
The event kicks off on Friday, September 27 at a community festival in Erlanger, where members will be registering voters and promoting the upcoming Singing For Democracy – and will end with a concert at Lil's Bagels and Roebling Books on October 6 called "We Choose What's Next!"
Some of the big events planned are:
September 27 – Community Block Party, 6-8 p.m. in Erlanger

September 28 – Singing For Democracy featuring music from MUSE, community gospel singers, and stories from those shut out or just entering our democracy; at Dietz Auditorum inside Lloyd Memorial High School (450 Barnett Ave in Erlanger)

October 1-4 – Voter registration at NKU, Thomas More University and Gateway College from 11 a.m. to 2 p.m.

October 2 – Democracy Meet and Greet at Esperanza Latino Center (234 Pike Street) 6:30 p.m.

October 4 – Foxy Democracy Party! Democracy Meet and Greet and friendraiser at Crazy Fox Saloon (21+) 901 Washington Street in Newport

October 5 – Bourbon Ballots and Brews: A Democracy Pub Crawl! 6 p.m. in Mainstrasse Village in Covington.

October 6 – We Choose What's Next! music, poetry and speakers celebrating what we've done and what we are working towards in this election and beyond! Lil's Bagels at 308 Greenup in Covington (rain location is Roebling Books at 306 Greenup Street). 
We hope you join us at these (or other) events to engage voters in the upcoming election! You can follow the work along on social media through #WeChooseKy and #NkyLovesDemocracy!
May 16, 2021
| Lexington Herald-Leader
April 27, 2021
| The Courier-Journal
April 8, 2021
| Lexington Herald-Leader
Featured Posts
Bonifacio Aleman on September 26, 2023
Bonifacio Aleman on September 26, 2023
Bonifacio Aleman on September 26, 2023
© 2023 Kentuckians For The Commonwealth