NKY members learn of sustainability initiatives on tour
Posted by: KFTC staff on October 17, 2019 at 10:25am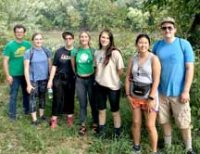 The Northern Kentucky Chapter hosted a Sustainability Tour in September with allies in Covington to learn about ways local communities are trying to promote sustainability.
Members gathered at Roebling Point Books and Coffee at 306 Greenup Street to outline the day, and then walked to the Covington Farmers' Market on 3rd Street. There they learned about the Double Dollars Program from Alexa Abner and Megan Ayers, which is used to double the buying power of people who utilize the public safety net.
This program allows low-income folks to buy locally, support local farmers and have access to fresh food. Alexa and Megan also shared pop-up events they host in other neighborhoods to promote local vendors, as well as how the market seeks to reduce the waste from the market.
After that, the dozen people who came to the tour visited with local vendors, and walked to Redden Gardens. Brian Goessling, who began the garden where his grandfather's doctor's office had once set, developed the concept as a way to invest in the community and honor his Grandfather Redden's legacy.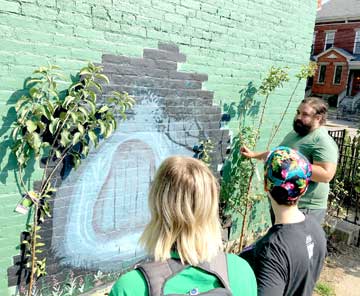 The conversation covered everything from solar potential in Kentucky, the ongoing impact of legislation that limits the affordability of solar for residences by placing restrictions on net metering in Kentucky, to urban chicken farming, the challenges in creating a nonprofit community garden, and the threat that gentrification brings to the community that benefits from the extra food the garden provides.
Walking back to Lil's Bagels, members reflected on the knowledge and passion that everyone they spoke with had for the communities they lived in. They talked about the Energy Performance Assessment District that Covington has, and what on-bill financing for similar projects could mean for residents or other businesses. They talked about the potential of cleaner energy, and how legislation like RECLAIM could help create jobs and clean water and land in former mining communities, including where some of the participants families still call home.
At Lil's Bagels, Julia Keister spoke with the hungry attendees, and listened to the day. She talked about local efforts to source their food locally, including purchasing through the local food connections. Roughly 50 percent of their food year-round is locally sourced, and they try to grow what they can in the small garden they have in their courtyard.
Following lunch, most of the attendees went on a hike at the Licking River Greenway Trail, walking to Randolph Park in Covington's Eastside, following it to the Covington neighborhood of Levassor Park. People reflected on the day, what they enjoyed, and what they'd like to see more of.
At the end of the hike, NKU Hiking and KFTC agreed to host another NKY Sustainability Tour in Newport on April 11. Members plan to again reach out to the Poor People's Campaign, Ride the Cov, and local businesses and nonprofits that are passionate about sustainability.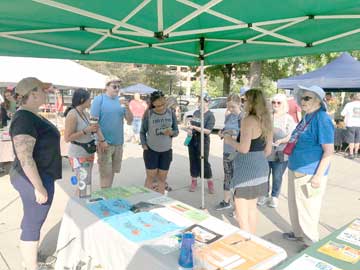 May 16, 2021
| Lexington Herald-Leader
April 27, 2021
| The Courier-Journal
April 8, 2021
| Lexington Herald-Leader
Featured Posts
Bonifacio Aleman on September 26, 2023
Bonifacio Aleman on September 26, 2023
Bonifacio Aleman on September 26, 2023
© 2023 Kentuckians For The Commonwealth