Northern Kentucky plans Hispanic Heritage Month activities
Posted by: Joe Gallenstein on September 12, 2018 at 05:04pm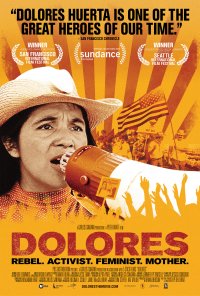 The northern Kentucky KFTC chapter plans to particpate in several upcoming events to help celebrate this year's Hispanic Heritage Month. The Hispanic Heritage Month is from September 15 through October 15, and serves as an excellent opportunity to celebrate Latino heritage and the growing Latinx community in northern Kentucky.
To celebrate this work, the local chapter will be tabling at the Cristo Rey Parish festival in Florence. Cristo Rey is a Catholic parish in Florence, and focuses on the need for the local Latinx community. KFTC members will be on hand to register voters, hear what issues local communities are facing, and look for opportunities to work together with allies.
The chapter also is hosting a screening of Dolores at the Covington branch of the Kenton County Public Library on September 22 from 2 - 5. We are partnering with the Cincinnati chapter of LULAC, Mass Action for Black Liberation, Northern Kentucky Peace and Justice, Northern Kentucky University's World Languages and World Literature Department, the Intercommunity Justice and Peace Center, and the Mother of God Church Education Committee. Following the film a panel consisting of Professor Irene Encarnacion as moderator, a representative of LULAC (League of United Latin American Citizens), Chia Monick (a UC law student and DACA recepient), and Heyra Avila (also a DACA recepient.
The chapter plans to continue to focus on racial and immigrant rights issues going forward, including asking questions at upcoming candidate forums and more. 
May 16, 2021
| Lexington Herald-Leader
April 27, 2021
| The Courier-Journal
April 8, 2021
| Lexington Herald-Leader
Featured Posts
Meredith Wadlington on September 22, 2020
Lisa Abbott on June 9, 2020
Caitlin Sparks on May 9, 2020
© 2023 Kentuckians For The Commonwealth