ORSANCO work continues, hearings in early April
Posted by: Joe Gallenstein on March 29, 2019 at 10:07am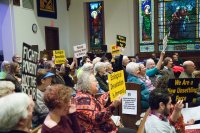 For more than a year, KFTC has worked with allies to protect the Ohio River Valley Water Sanitation Commission's (ORSANCO) mission to clean and protect the Ohio River through monitoring and enforcement. This commission, made up of representatives of the federal government and 8 members states (New York, Pennsylvania, Ohio, West Virginia, Virginia, Kentucky, Indiana and Illinois) of ORSANCO maintains pollution control standards that are higher than the EPA or state enforcement agencies.

While these standards have not solved the Ohio River's pollution issues, it has made considerable progress since the founding in 1948. Yet some political appointees in ORSANCO want to make these essential standards optional for states to enforce, giving states the ability to ignore damage to our water systems that disproportionately impacts lower income people and people of color across the region.

Together we can stop that from happening by encouraging the commissioners to reject this change. We have until April 15 to let them know they should continue to promote stronger regulation, and to not make it optional. We need your help to encourage ORSANCO to ensure that their standards are required by all the states in the compact; any deviation made should be required to be made public through a public notice, with both ORSANCO and the public able to respond; ORSANCO report released every e years, detailing how states faire compared to ORSANCO standards, and available for public review; ORSANCO update pollution control standards at least once every 3 years; and continue to evaluate National Pollutant Discharge Elimination System (NPDES) permit issued by states and develop an annual report summarizing the findings.

You can send your comment by:
Emailing them to

[email protected]

by April 15.

Attending the hearing on April 1 from 6-8 p.m. (Eastern) in the DoubleTree Hotel Duquesne meeting room at 500 Mansfield Avenue in Pittsburgh, PA.

Attending the hearing

on April 4 from 6-8 p.m. (Central) at Tropicana Evansville in the Walnut B meeting room located at 421 NW Riverside Drive in Evansville, IN.   

Attending the hearing

on April 8 from 6-8 p.m. (Eastern) a the Holiday Inn Cincinnati Airport in the Kenton meeting room at 1717 Airport Exchange Blvd in Erlanger, KY.

ORSANCO has been leading the way in protecting the waters in the Ohio River valley since 1948, and can continue to do so. Let's make sure that the commissioners have the courage to follow through.
May 16, 2021
| Lexington Herald-Leader
April 27, 2021
| The Courier-Journal
April 8, 2021
| Lexington Herald-Leader
Featured Posts
Meredith Wadlington on September 22, 2020
Lisa Abbott on June 9, 2020
Caitlin Sparks on May 9, 2020
© 2023 Kentuckians For The Commonwealth