Out of Reach: Foreclosed, displaced and evicted from My Old Kentucky Home
Posted by: KFTC staff on October 15, 2018 at 03:46am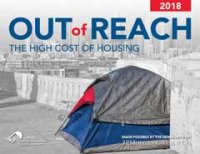 The struggle for fair and affordable housing is a national one, taking hold across Kentucky. It's a challenge that Kentuckians face on many levels.
Voter Empowerment Organizer Alexa Hatcher of the Southern Kentucky chapter shared how housing issues show up in KFTC's work for a healthy democracy.
"While out canvassing, a family got our attention from the other side of the road and asked us to come talk with them," Hatcher said. "They said that they were given a month to move out of their house and had to fight to get their security deposit at that.
"About three days after they were told they had to leave, some of the developer's workers came in to 'check for asbestos.' The workers came in with sledge hammers and busted holes all along the walls looking for asbestos. Luckily, they didn't find any, because the family had nowhere to go with their small kid.
"This story also highlights a reality of this problem. It is scary to go up against huge developers and landlords, who have so much power over our community."
Many Kentuckians face similar problems. Thirty-three percent of Kentuckians are renters, according to "Out of Reach: The high cost of housing," a report that offers national and local data about the affordability of housing.
This means that one in three Kentuckians are potentially impacted by unfair evictions, rising rents, maintenance issues and other problems.
Shelter is a fundamental human need. Therefore, housing is a human right. KFTC's vision statement says, "We are working for a day when the lives of people and communities matter before profits. When all people have health care, shelter, food, education and other basic needs."
In other words, KFTC members work for a day when families have the safety and stability of a well-maintained and affordable home.
A minimum wage earner in Kentucky, on average, needs to work 79 hours per week to afford two-bedroom housing at fair market rent, according to the report. This indicates that workers are underpaid and that homes are treated as commodities for corporate profit rather than a requirement for survival.
For KFTC members, what does it mean to build towards a Kentucky where people matter before profits and where all people have shelter?
A vision of homes for all could mean:
Community control – community land trusts, community benefits agreements, fighting displacement, and working with rural electric cooperatives to ensure utilities are affordable, transparent and working in the community's interest to mirror our vision for a healthy environment;
An end to tax incentives for developers, decommodification of housing, rent control and affordable housing trust funds;
Just-cause eviction, basic habitability standards and the Uniform Residential Landlord and Tenant Act.
KFTC is using its voter engagement work this fall to build towards this vision. Voter canvasses are reaching directly impacted renters and helping lift up their stories. These voters often are in neighborhoods most impacted by the actions of greedy landlords, the forces of gentrification and cuts to housing assistance programs.
The Southern Kentucky and Madison County KFTC chapters are canvassing with scripts that address the struggle for fair and adequate housing, and connect this to how candidates at the local and state levels impact the issue in positive or negative ways.
Hatcher described some of what people share when asked about their housing situation:
"Another problem we have been hearing over and over is how some landlords refuse to take care of their properties in majority person of color and low-income communities, until the point that they are unlivable. Then, instead of selling them they leave them to rot.
"Folks in our community feel that it is completely unacceptable to let properties sit condemned while our homeless population rises, and rent keeps getting higher and higher.
"There is a real urgency to work on housing, and people who are most affected need our help organizing people power to make change." 
Voting is one way for renters to create the needed change. Others can help lift up their stories through lobby meetings, letters to the editor and other public forums, as did Southern Kentucky chapter member Nancy Bridges in a recent letter to the Bowling Green Daily News.
KFTC's voter empowerment work is based on the belief that, together, Kentuckians can elect better leaders who will make a difference in how housing, and the economic, environmental and racial systems that allow unsafe conditions and unjust systems, are being addressed at both state and local levels.
In the 2018 General Assembly, Rep. Melissa Prunty tried to speed up the eviction processes in order to kick tenants out of their homes with only seven days' notice. Grassroots push-back prevented the bad eviction bill from passing.
While a statewide Uniform Residential Landlord and Tenant Act (URLTA) bill, which would protect both landlords and tenants, was introduced toward the end of the last legislative session, it gained little traction and did not receive a hearing or vote.
Many of the legislative solutions listed in the vision above, including URLTA, can be adopted at the city or county level. Local officials have a substantial opportunity to help build toward our vision as well.
KFTC members also are building toward this vision on a national scale with partners in Homes For All, which just released a guide to starting tenant unions. There are many partners and resources to help support the fight for safe and affordable housing.
While gentrification, homelessness, foreclosure and other housing issues often are thought of as urban issues, the value of generational homes, historic neighborhoods and staying in one's community is shared by rural Kentuckians. Urban and rural Kentuckians face the same struggles, though at different paces and in different ways.
With so many challenges and so many possible solutions available, it's imperative to keep the conversation going. KFTC's voter work is raising this issue in the 2018 election and will help hold elected leaders accountable once in office. This is one of many approaches that will help achieve the vision of safe and affordable homes for all.
May 16, 2021
| Lexington Herald-Leader
April 27, 2021
| The Courier-Journal
April 8, 2021
| Lexington Herald-Leader
Featured Posts
Meredith Wadlington on September 22, 2020
Lisa Abbott on June 9, 2020
Caitlin Sparks on May 9, 2020
© 2023 Kentuckians For The Commonwealth