Perry County members visit Rep. Rogers' office about border issue
Posted by: KFTC staff on July 8, 2018 at 12:27pm
Members of the Perry County KFTC Chapter of gathered Tuesday in Hazard in front of U.S. Rep. Hal Rogers' office to protest the separation of families and stand in solidarity with immigrants being targeted by ICE and Customs and Border Protection.
The KFTC members met with Danielle Smoot of Rogers' staff to discuss the issue of separating families at the border. They asked for a meeting with Rogers when he is in Kentucky during a congressional recess.
There is a real fear that causes people from other countries to seek asylum in the U.S., Susan Hull of Perry County pointed out. "I lived in Nicaragua for three years. There are 'the missing' as they call them, the army comes in and then people are missing the next day. I know that it's true, but it's something that some of my friends here think is made up. There is a real fear."
"We should be treating immigrants with great joy and welcoming them," Virginia Meagher, of Breathitt County said. "I feel very strongly that we need a more humane policy, and that children should never be taken away from their parents."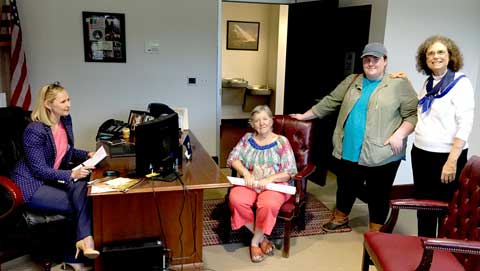 May 16, 2021
| Lexington Herald-Leader
April 27, 2021
| The Courier-Journal
April 8, 2021
| Lexington Herald-Leader
Featured Posts
Meredith Wadlington on September 22, 2020
Lisa Abbott on June 9, 2020
Caitlin Sparks on May 9, 2020
© 2021 Kentuckians For The Commonwealth