Poor People's Campaign Truth & Poverty Tour in Kentucky
Posted by: KFTC staff on April 20, 2019 at 08:18am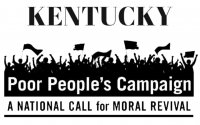 The Poor People's Campaign: A National Call for Moral Revival's National Emergency Truth & Poverty Bus Tour will visit western Kentucky on April 29, making stops in Eddyville, Hopkinsville and Bowling Green. The Kentucky tour is part of a 28-state journey by the Poor People's Campaign that began in late March to expose the nation's true emergency that 140 million people are poor and low-income. Two million are Kentuckians.
Joined by the Poor People's Campaign National Co-chairs, Reverend Dr. William Barber and Reverend Dr. Liz Theoharis, the Kentucky tour will visit people in local communities and lift up the voices of those who are impacted by the five interlocking injustices that the campaign has set out to dismantle: systemic racism, poverty, ecological devastation, the war economy and the distorted moral narrative of Christian and religious nationalism.
Journalists to join this tour by riding the tour bus. The bus leaves Mount Zion Church, 175 Graham Street, Bowling Green at 11:15 a.m. CDT and returns to Bowling Green at 6 p.m. for program activities from 6 - 8 p.m.  To reserve a seat on the bus, contact Pam McMichael, 865-235-7077.
Poor People's Campaign Kentucky Stops. All times listed are central standard time. 
1 p.m. CDT Kick-off Press Conference, Eddyville
The Kentucky tour kicks off with a 1 p.m. press conference outside the Kentucky State Penitentiary in Eddyville as symbol of a broader criminal justice system that targets poor people and communities of color throughout the state. Persons directly affected by this system will bear witness to the human cost of over-policing, cash bail, and race-based excessive sentencing that destroys families and the appalling conditions endured by inmates in overcrowded jails and state prisons.


3 - 4:30 p.m. CDT Hopkinsville
Following the press conference, the tour will visit Hopkinsville, where members will bear witness to issues facing poor and low-income people including loss of health care and voting rights, homelessness and housing, issues facing farmers, and drastic reductions in Supplemental Nutrition Assistance Program.  
Participants on the tour and Hopkinsville residents will walk a neighborhood hearing testimony at different stops, concluding at Freeman Chapel, 137 Virginia Street where Rev. William Barber and Rev. Liz Theoharis will speak.


6 - 8 p.m. CDT Bowling Green
The Poor People's Truth and Poverty in Kentucky will conclude Bowling Green at the Mount Zion Church, 175 Graham St. with a community supper, music and stories of impacted persons, including voting rights essentially stolen by gerrymandering; a video documenting the ordeal of a single mother with young children on a 5 hr. round trip hour bus ride from her home in the housing authority to Cabinet offices, due to the relocation from their accessible downtown location to an affluent suburb miles away from the people who need it most. And a history lesson – from one who was there -- the forced removal of the entire population of the African American community of Jonestown in Bowling Green in order to make room for the expansion of Western Kentucky University.
May 16, 2021
| Lexington Herald-Leader
April 27, 2021
| The Courier-Journal
April 8, 2021
| Lexington Herald-Leader
Featured Posts
Meredith Wadlington on September 22, 2020
Lisa Abbott on June 9, 2020
Caitlin Sparks on May 9, 2020
© 2021 Kentuckians For The Commonwealth