Progressive voices join to win Fairness ordinance in Paducah
Posted by: KFTC staff on January 10, 2018 at 04:46am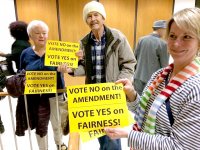 In a historic win for Fairness in western Kentucky, Paducah has become the ninth city in Kentucky to adopt an anti-discrimination ordinance that protects LGBTQ+ people.
On January 9, more than 250 people packed the Paducah City Hall chambers, about two-thirds of the crowd showing support. After lengthy public testimony and debate, the measure passed by a 4 to 1 vote.
The ordinance prohibits discrimination in employment, housing, and public accommodations. An amendment to include exemptions for religious business owners failed by a similar 4 to 1 vote. Such an exemption exists in state law, however.
KFTC members joined the Fairness Campaign and ACLU of Kentucky for phone banks to win support for the ordinance and turn people out for the city commission's vote.
Paducah is the first city in western Kentucky with a Fairness ordinance.
The eight other Kentucky cities that have passed similar LGBT Fairness Ordinances are Covington (2003), Danville (2014), Frankfort (2013), Lexington (1999), Louisville (1999), Midway (2015), Morehead (2013), and Vicco (2013).
Similar efforts and discussions are underway in several more Kentucky cities and towns.
May 16, 2021
| Lexington Herald-Leader
April 27, 2021
| The Courier-Journal
April 8, 2021
| Lexington Herald-Leader
Featured Posts
Meredith Wadlington on September 22, 2020
Lisa Abbott on June 9, 2020
Caitlin Sparks on May 9, 2020
© 2023 Kentuckians For The Commonwealth