Raise your voice for a fair and equitable Louisville budget
Posted by: KFTC Staff on May 14, 2019 at 05:51pm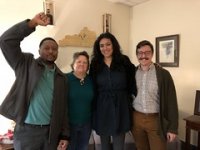 No matter your zip code, we all want whole, thriving communities. Governor Bevin's recent changes to Kentucky's pension system have created budget shortfalls in communities across the commonwealth, including here in Louisville. This month the Louisville Metro Council needs to hear from you about what a fair and equitable budget could look like in the midst of these massive cuts.
Metro Council is hosting two more public hearings where you can attend and speak about your vision for our city budget on Thursday, May 16 and Monday, May 20 at 6 p.m. at City Hall (601 West Jefferson Street).
You can join KFTC members across the Jefferson County chapter in raising your voice for a fair and equitable budget by attending and/or speaking at a hearing, calling your Metro councilperson, writing a letter to the editor, and sharing with your friends and family.
Below are the Jefferson County KFTC Economic Justice Team's views on local progressive taxation, criminal justice reform, and tax increment financing. You can use these talking points when contacting your Metro Councilperson, writing a letter to the editor, or speaking at an upcoming public hearing.
Local Progressive Taxation
Local progressive taxation refers to the idea that wealthier individuals pay higher tax rates at the local/city level.
Louisville, like the rest of the country, is experiencing incredible levels of income inequality, with some zip codes averaging 4 times the income of others. As a city, we should be taxing the wealthiest individuals a fair amount. Our current taxing structure relies primarily on occupational and property taxes.

All of Louisville's taxing power comes from the state of Kentucky. More than anything, Louisville's ability to choose how we tax ourselves is an issue of local control. We especially need Republican members of the Metro Council to join with their Democratic colleagues to demand more options for the city to tax itself so we can spread out the tax burden so it doesn't impact our most vulnerable residents.

We should be able to have a hotel tax that goes to the general fund. Currently, all hotel taxes go to Louisville Tourism and to paying off the convention center. We have so much hotel development and demand, yet the city receives no direct tax revenue to put towards programs that help local residents.

We need a graduated property tax (i.e. a mansion tax) that taxes large houses and tracts of land at a higher rate. This would account for the additional costs and negative externalities of suburban sprawl, collect more revenue from people who are able to pay it, and allow the city to gather the resources necessary to actually address redlining which still exists in black neighborhoods and whose historical effects have prevented the acquisition of wealth to people of color.
We should not request a local option sales tax, because it is regressive.
Criminal Justice Reform
We all want safe and healthy communities. But we cannot achieve safety through policing and punitive justice models. We need to invest in more comprehensive approaches to public safety including support for vulnerable populations and restorative justice practices.

Our current punitive justice system is still prioritized in the mayor's proposed budget. The Louisville Metro police department seems to have been particularly protected in the proposed budget cuts.

While one recruit class was cancelled and school resource officers would be removed from schools and return to the force, there would be only 48 positions lost through attrition and no layoffs. The total cost savings is about $5.5 million, from a 2018-2019 budget of over $179 million – about a 3% cut.

By comparison, the budget proposal calls for closing two library branches altogether and reducing the open hours of all remaining libraries from 12 hours to 8 per day, leading to 57 layoffs and 35 positions lost to attrition. The total cost savings is about $2 million, from a 2018-2019 budget of just over $19 million – almost an 11% cut.

The Office of Safe and Healthy Neighborhoods, which uses a public health approach that has been shown again and again to reduce violent crime, will see its budget reduced almost $400,000 from a 2018-2019 budget of just over $2.5 million – a cut of more than 15%.

And what does all of this money reserved for the LMPD get us? A recent viral video drew attention to LMPD's policy of conducting large numbers of traffic stops in "high crime" areas – one example of their approach to over-policing underprivileged and minority neighborhoods. And does it keep us safe? A recent study in Nashville of more than 2 million traffic stops showed that not only were police traffic stops racially biased, but they didn't reduce crime. How much money is Louisville spending each year on traffic stops? What about other forms of supposedly "preventive" policing that target vulnerable communities and don't make us any safer?

The over-policing of our underprivileged communities carries over into the correctional system. While only 23% percent of Louisville's population is black, black people made up 39% of those who were booked into the Louisville Metro corrections system in 2018, and 48% of those who were being held in custody. What would it look like if we stopped disproportionately arresting people of color, especially black men? How much money might that save?

Moreover, low-income populations (who are also disproportionately members of minority racial and ethnic groups) are particularly impacted by cash bail. Innocent people who cannot afford thousands of dollars in cash bail languish in jail. This has a cost to the community – people who are stuck in jail cannot go to their jobs or take care of their children. It also has a cost to Louisville Metro – a recent snapshot of Louisville Metro's correctional facilities indicates that almost two-third of the people being held in custody in our jails have not been sentenced to jail time and are being held pre-trial. A snapshot from late 2018 showed that hundreds of people were being held on bail due to Class D felony or even misdemeanor charges. The cost to house someone in a Louisville Metro correctional facility was $80.51 per day in 2018. What could we save – both directly in the city budget, and in the improved lives of those who would otherwise languish in jail before even being convicted of a crime – if Louisville fully embraced bail reform and non-financial conditions for pretrial release?
Tax Increment Financing
Taxes and cuts are not the only answers.

The primary issue is: How the city is run and for whom.

We don't approve of scare tactics and stunts coming from mayor's office. The Metro Council is correct to reject scare tactics and stunts.

The city gives away a lot more than the needed $65 million with the public private partnerships - $139 million to the Omni Hotel-Churchill Downs not paying property taxes; the sweetheart deal with the YUM Center-Developers not holding up their end of the bargain in providing affordable units and still getting benefits from the city.

We see this as a great opportunity to re-order the priorities of the city government.

We don't want to go back to Business as usual. No more business as usual.
May 16, 2021
| Lexington Herald-Leader
April 27, 2021
| The Courier-Journal
April 8, 2021
| Lexington Herald-Leader
Featured Posts
Meredith Wadlington on September 22, 2020
Lisa Abbott on June 9, 2020
Caitlin Sparks on May 9, 2020
© 2023 Kentuckians For The Commonwealth