Redistricting on the Horizon
Posted by: KFTC Staff on July 13, 2021 at 11:47am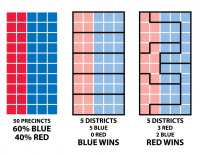 Every 10 years after completion of the US Census, it falls to the Kentucky Legislature to conduct a redistricting process to redraw political boundaries for US Congress, KY House, and KY Senate to rebalance districts based on new population numbers.  These new districts will last 10 years until the next redistricting.  

Legally, the legislature's new maps have to meet certain standards:
Districts must be as nearly equal in population size as possible.
Districts may not intentionally dilute the voting power of racial minorities (by splitting voters into separate districts, for example, or packing them into one).
Districts for the Kentucky legislature must divide the smallest possible number of counties.

Unfortunately, the Kentucky Legislature has often taken the redistricting process as an opportunity to advance partisan goals - splitting up communities to disenfranchise them, cutting legislators of the opposing party out of their own districts, and generally changing the boundaries to give them more political power.  This practice is known as Gerrymandering (see the graphic for an example).

The League of Women Voters, KFTC, and many ally organizations have pushed in these past 2 legislative sessions for a more non-partisan redistricting process - or in some cases at least a process with a robust public input process.  But those legislative efforts have so far failed.

Right now, the Republican Party controls 75% or more of the KY House and Senate, so they will largely control the redistricting process.  

At this juncture, it's unclear what timeline redistricting will happen in.  It's possible that there will be a special legislative session in late September or later, but that would mean Governor Beshear would be willingly calling the legislature to session to allow them to choose the districts.  It's also possible that redistricting will wait until early January, but the deadline to file for public office is also in early January, which presents some timing problems.

KFTC will be watching, working with allies to proactively build fair maps as conversation pieces when key data becomes available in September, will pressure the legislature to allow public comments, and will respond to proposed maps.
May 16, 2021
| Lexington Herald-Leader
April 27, 2021
| The Courier-Journal
April 8, 2021
| Lexington Herald-Leader
Featured Posts
Meredith Wadlington on September 22, 2020
Lisa Abbott on June 9, 2020
Caitlin Sparks on May 9, 2020
© 2023 Kentuckians For The Commonwealth