Remembrance of Patty Wallace's remarkable life
Posted by: KFTC staff on November 24, 2016 at 12:29am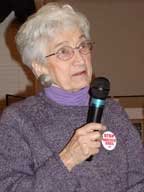 Patty Wallace, a long-time KFTC leader, former KFTC chairperson and an inspiration to many, passed away on November 20.
"Patty was a real heroine to those of us in KFTC," reflected John and Jean Rosenberg. "Beyond that, she was a lovely caring person. We will miss Patty a lot. When strong leaders are being counted, Patty will always be remembered."
"Patty was a wonderful person and an inspiration to many," remembered Henry Riekert, the KFTC chairperson 1994-95.
Patty and her Lawrence County neighbors got involved in KFTC in the 1980s as they worked to keep PyroChem, a hazardous waste incinerator, from being built. The company had come to county officials stating it wanted to build a recycling facility.
But Wallace and members of the Lawrence County Concerned Citizens researched the company the people behind it and exposed their real plans and the environmental disasters they had left in other communities.
A memorial service will be at 4 p.m. on Saturday, November 26, at the United Methodist Church in Louisa. The service will be preceded by a visitation at 3 p.m.
Donations may be made in Patty's memory to KFTC, Berea College or an environmental organization of one's choice.
Young Funeral Home is in charge of arrangements. Online condolences may be left for the family at www.youngfuneralhomeinc.com.
As a Girl Scout leader, she had learned about environmental issues in eastern Kentucky and she was ready to defend her community.
They teamed up with KFTC members in other chapters to push a Hazardous Waste Local Control Bill through the Kentucky General Assembly in 1988. That gave local communities a say in the citing of hazardous waste facilities, and soon the Lawrence County Fiscal Court voted to keep Pyrochem out for good.
"It took us 7 years but we showed what can happen when citizens fight for the right thing," Patty reflected years later. "It was great the night our magistrates came into the courtroom … conducted a hearing and voted PyroChems's proposal down. When PyroChem surfaced over in West Virginia in a few days we took all our info to those residents and they nipped it in the bud."
Patty became KFTC chairperson in 1988, when the broad form deed campaign was at its peak. Of all her many moments in KFTC, one of her proudest was when the broad form deed amendment passed in 1988 and guaranteed landowners some protection from surface mining.
As she became more active in KFTC's statewide work, Patty kept an eye on her own community. She and her niece Ruth Colvin attracted national media attention when they fought asbestos disposal at the nearby Roe Creek landfill. When the local sheriff suggested they not enter Roe Creek without a gun, Colvin got deputized and started carrying one.
Audubon magazine dubbed them "Housewives from Hell," and the television show Expose featured them in a program about the influence of organized crime in the garbage business. Dr. Richard Leakey's Earth Journal television program and AARP's Modern Maturity magazine also told their story. "Those were things where our message got out," she said.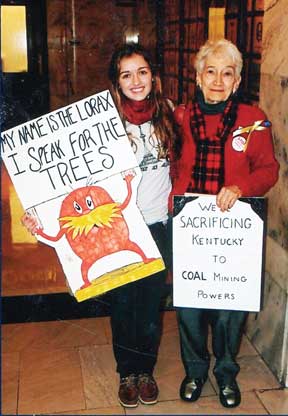 Wallace graduated from Berea College in 1952 with a degree in home economics, and another proud moment was when the Berea College Magazine featured her on its cover in 2002 for her activism.
On more than one occasion, Wallace has answered the question of why she became an activist in this way:
"Because I am responsible and answerable to God for the things that are within my power to change, even if only by the way I live and speak out when I see a wrong
"Because there are many other children and adults who have no one to speak for them.
"Because I agree with two-thirds of the state who favor clean air and water.
"Because there are alternatives to the problems of this dispose-all society."
Perhaps Patty's biggest goal was to end mountaintop removal.
"To me, the most beautiful areas are these little hollows with the rhododendron, the hemlock, the rocks. I love to discover a place like that … and to think that we can just cover that up and destroy it all, it just makes me sick," she said.
"The mountains are where I've lived all my life. Saving our mountains is the work that I most care about. We must leave something for our children and grandchildren."
"I remember that she was energetic toward the cause. I admired her for that," remembered Sidney Cornett, KFTC chairperson from 1984-86.
Patty's activism and deep concern for protecting the environment led to her appointment in 1993 to the Environmental Quality Commission by Gov. Brereton Jones. She was reappointed to a second term by Gov. Paul Patton.
In 2002 Earth Day ceremonies, Patty was honored by the Environmental Quality Commission with a Lifetime Achievement Award.
She had received a similar Lifetime Achievement Award from KFTC in 1997.
Another honor was being one of the dedicatees of Wendell Berry's 2015 book of essays, "Our Only World."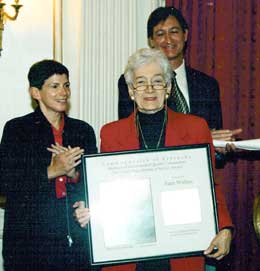 "For years I have worked to make Kentucky a better place, especially one with a clean and healthy environment," wrote Patty in a 2005 letter to KFTC members. "I've been in the thick of battles against landfill operators illegally bringing asbestos into our county. I've fought oil and gas drillers who thought our streams existed to give them a place to dump their pollution. My community challenged and kept out hazardous waste operators who had a history of leaving Superfund sites in other communities. We butted heads with the logging industry and managed to win a bill than at least allows minimal protections for our forests.
"Ruth Colvin, my niece, and I had some interesting times together… appearing on Expose, Earth Journal, Audubon Magazine and AARP magazine. Not because we were officials or especially smart but because we, like others in our state, would not let ourselves be overrun by the Mafia or anyone else who thinks we are not too smart. Because of our hard work and victories we have earned a great reputation and have connections all over the country.
"Being a member has been a growing experience for me. I have met the nicest people through these years, many of them well-known and many who should be well known because of their good sense, their love of the land and their willingness to stand up and fight for it.
"And, we always had fun … I loved my award at the 1989 KFTC picnic, the Hysterical Housewife Award for knowing how to cook up trouble wherever she goes and knowing how to bake award-winning recipes."
In 2005, she called KFTC "the most important organization I've ever belonged to. I've learned so much and met the best people. I wouldn't take anything for my years with KFTC."
"Thanks to KFTC our voices will be heard …we have learned that we can make a difference."
Patty certainly did.
May 16, 2021
| Lexington Herald-Leader
April 27, 2021
| The Courier-Journal
April 8, 2021
| Lexington Herald-Leader
Featured Posts
Meredith Wadlington on September 22, 2020
Lisa Abbott on June 9, 2020
Caitlin Sparks on May 9, 2020
© 2023 Kentuckians For The Commonwealth